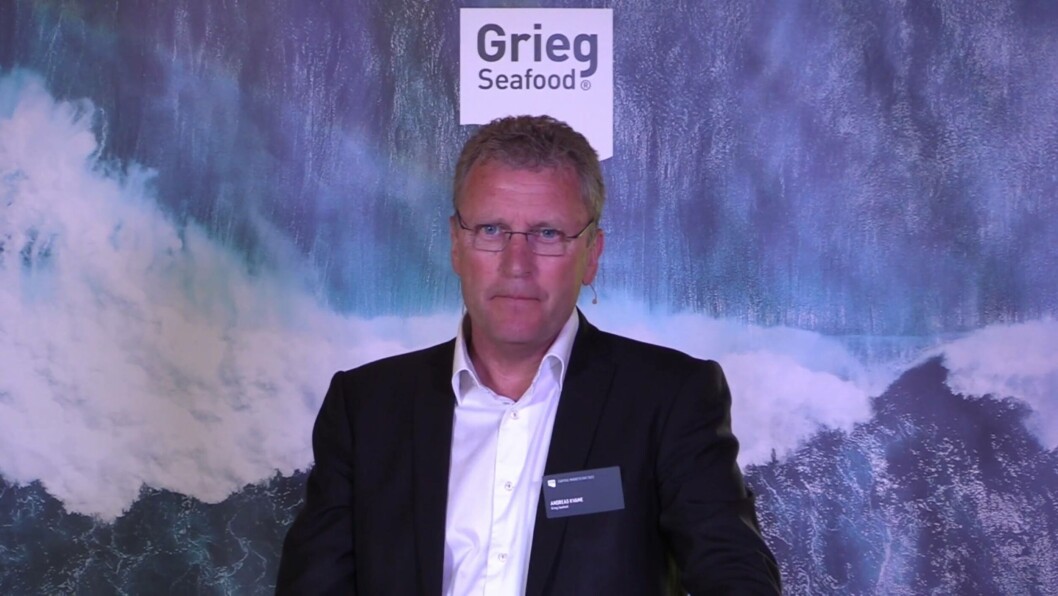 Grieg boss Kvame hopeful that BC licences will be renewed
Grieg Seafood chief executive Andreas Kvame today said that he hopes and believes the company's licences for salmon farms in British Columbia will be renewed.
Federal government licences for 79 BC salmon farms including 22 operated by Grieg expire at the end of this month, and fisheries and oceans minister Joyce Murray has not yet said whether she will renew them.
Speaking to institutional investors at Grieg's capital markets day in Norway, Kvame said the company, which has agreements with three First Nations to farm in their territories, supported the Canadian government's initiative to make a plan by 2025 to transition the salmon farming industry in BC away from traditional open net practices.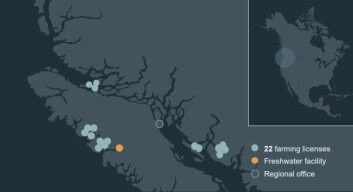 Post-smolt strategy
He added: "We have started this transition through our post-smolt strategy and by implementing barriers all around our farms," a reference to a drop-down barrier that can extend for the full depth of the pen and has been successfully trialled at two farms.
Grieg's post-smolt strategy involves growing fish to a larger size in on-land recirculating aquaculture systems before they are stocked in net pens, reducing the amount of time they spend at sea.
The capital markets day included a presentation by Grieg BC managing director Rocky Boschman, who talked about the progress Grieg has made in the province.
Hope and belief
Fish Farming Expert later asked Kvame if Grieg Seafood was confident that its licences in BC will be renewed.
"It has been said that there has to be a transition plan by 2025. We are working on our approach to that, as Rocky has gone through," answered Kvame.
"We have seen our barrier system, we have seen the post-smolt that we give more of the time on land.
"I hope and believe that the licences where we have consent with the First Nation will be renewed."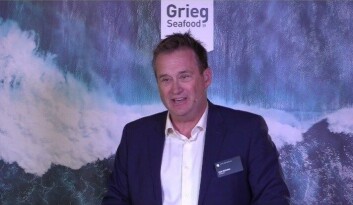 Hard work
Boschman had earlier told the capital markets day that harvest volumes had steadily grown since 2016 as a result of a five-year strategic plan to invest in feeding systems, aeration systems and the replacement of square cage assemblies with larger, 200-metre circular pens. The company expects to harvest 22,000 gutted weight tonnes in BC this year and is targeting 30-35,000 gwt by 2026.
"100% of our fish this year will be harvested with ASC (Aquacultiure Stewardship Council) certification, and we're very proud of all the hard work that went into achieving that," said Boschman.
"In 2021 we started our own internal brood programme, which now supports all of our growth ambitions."
Improved survival
Boschman added that constant improvements to the aeration systems on every farm had improved survival during harmful algal bloom (HAB) events. HAB related mortality fell from 3.4% in 2019 to 0.4% last year.
"The use of artificial intelligence helps us to understand the enormous volume of environmental data that we're collecting all the time, and this has really progressed out ability to meet the environmental challenges," said the director.
Boschman said that economic feed conversion ratio (eFCR), which includes mortality in the measurement, had been consistently improving due primarily to fewer feeding days being lost to environmental challenges.
Fewer lost feeding days
"Investments in feeding capacity and improvements to our aeration systems allow us now to feed well in difficult conditions when previously we couldn't feed at all and feeding during these difficult times would cause stress or even mortality with the stock."
Boschman said investments in infrastructure had enabled Grieg to maximise production on each farm.
"Further growth will come from improvements in several areas. We continue to invest in farm infrastructure that maximises production. This means larger pens and better feed systems. We continue to increase survival with improvements to our aeration systems and barrier systems, and organic growth will come with new farms currently in the application process."