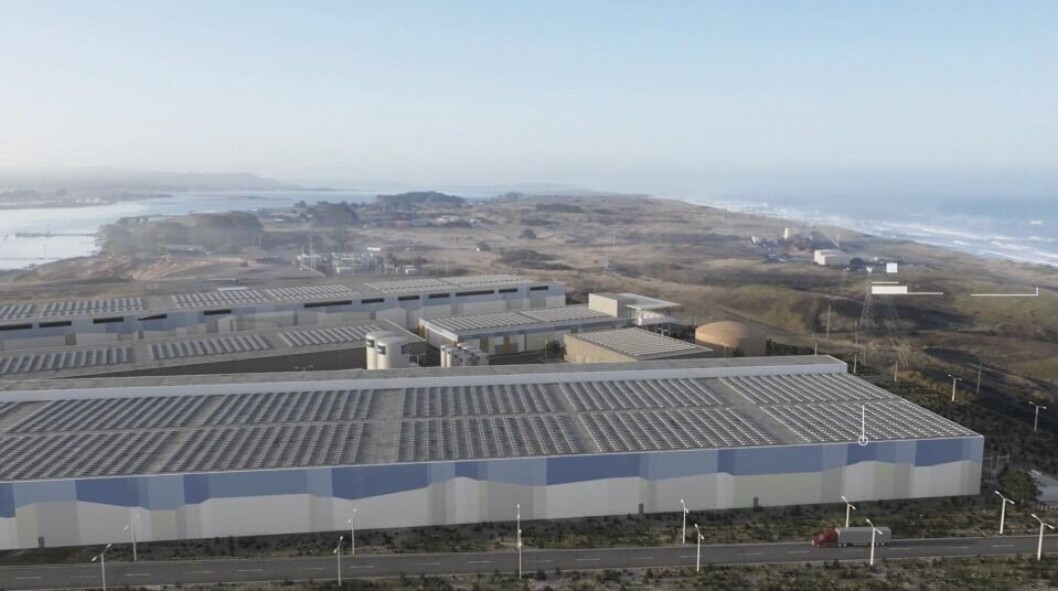 Nordic Aquafarms expands California salmon RAS plan
Nordic Aquafarms (NAF) is expanding its planned on-land salmon farm in California, making it the same size as the 33,000-tonnes-per-year farm it intends to build in Maine on the other side of the United States.
The company said the Harbor District, its landlord for the recirculating aquaculture system (RAS) facility on the Samoa Peninsula, Humboldt County, California had agreed to expand Nordic's lease area by approximately three acres.
"The Humboldt facility now equals its sister project in Maine in size and has benefited significantly from the development and operations experience from the three Nordic Aquafarms facilities in operation [in Denmark and Norway], and an equal number of NAF projects under development," said NAF in a press release.
NAF's California RAS
NAF plans to submit its first permit application this summer and subsequent applications in the autumn.
It expects to receive permits in 2021.
In full operation the facility will employ more than 150 people.
The RAS will remove 99% of most nutrients and 85% of nitrogen in its discharge. NAF said it will continue to work with local environmental groups to address their concerns.
As fish are raised indoors from egg to harvest it is not possible for fish to escape from the facility, which will be constructed to withstand earthquakes and tsunamis, said NAF.
NAF will apply for permits for both steelhead (rainbow trout) and Atlantic salmon.
NAF said it will not compete with the local fisheries and is committed to not applying for any aquaculture permit that will compete directly with the local fishers.
The company said it recognises that the facility will be built on traditional tribal land and "will continue to work with tribal entities to ensure that all necessary considerations are taken".
"Modular standardised designs developed with our Danish RAS design department mean that the Maine and California projects benefit from significant design, construction, and operational synergies."
'Permits next year'
NAF said permits for California are expected in 2021 based on dialogues with permitting agencies, and that demolition work on the site could start next spring.
The company's progress in California has been quicker than in the town of Belfast, Maine, where some residents have opposed NAF's plans and where pipeline access to the sea has been the subject of a court case over who owns the land the pipe would run across.
NAF said permitting deliberations for Belfast were now "in their final weeks after a long and at times challenging process" and no more documentation was required from it by authorities.
Last week Belfast councillors wrote to permitting agencies to ask them to end the drawn-out process my making a decision one way or another.
Sites now 'in competition'
"Maine is essentially in competition with California at this point with the good progress we are making in California," said NAF president Erik Heim.
"We are committed to both locations, but investment priority with regards to timelines and phasing in both locations will be subject to further consideration this year."
Both projects will be developed in phases.
Relocation of tenants
NAF's agreement with the Harbor District states that they will collaborate on a relocation plan for tenants with long-term leases in buildings on the additional acreage on the Samoa Peninsula site. NAF will also be responsible for demolition of the buildings on the additional acreage.
Nordic Aquafarms produces around 1,000 tonnes a year of yellowtail kingfish at its Sashimi Royal RAS facility in Hantsholm, north west Denmark, and grows fingerlings for the plant at its Maximus AS hatchery on the shore of Limfjord in the same region.
The company also runs Fredrikstad Seafood, which is growing Atlantic salmon on an industrial estate in Fredrikstad in south-east Norway. The RAS facility, which has a capacity of 1,500 tonnes a year and a maximum permitted biomass of 800 tonnes, was due to begin harvesting its first fish around now.