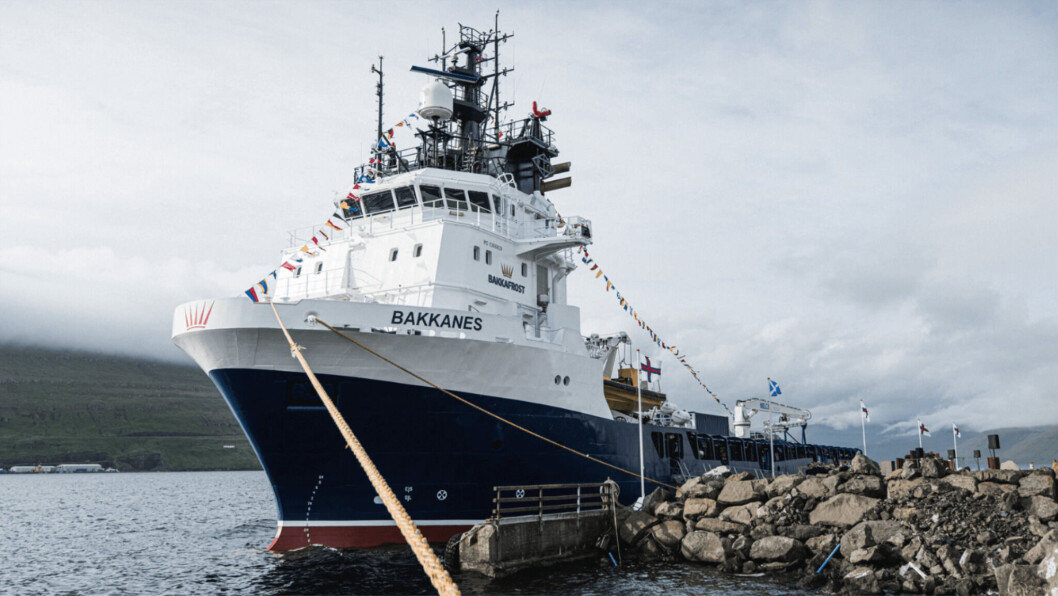 SSC delousing vessel gets fine-tuned in the Faroes
A huge delousing vessel that will primarily be used by the Scottish Salmon Company (SSC) has begun operations in the Faroes before travelling to Scotland.
The 73-metre-long MS Bakkanes was bought by Faroese salmon farmer Bakkafrost, which owns SSC, in April and has been refitted by Faroes boatbuilder MEST Shipyard.
The vessel, formerly known as the Viking Athene, has been equipped with a four-line FLS delousing system made by Norwegian company Flatsetsund Engineering. Treatment capacity is 50 tonnes of salmon per hour per line, enabling the Bakkanes to treat 200 tonnes of fish per hour if all lines are in use.
Limited vessel capacity
Several hundred people attended a reception for the Bakkanes at Bakkafrost's Glyvrar headquarters on Saturday, following completion of the refit. SSC managing director was among those giving speeches.
At a capital markets day presentation held in Glyvrar earlier this month, Laister told institutional investors that underinvestment in the years before SSC was bought by Bakkafrost in 2019 had left the company with 30-year-old hatchery technology and limited vessel capacity.
That was partly rectified by the arrival of a freshwater treatment vessel last year that had made a big impact on fish health. The Bakkanes is another piece in the jigsaw for Bakkafrost, which is investing millions in hatcheries and other infrastructure and equipment for SCC.
Bakkafrost said the Bakkanes will operate primarily in Scotland, although it may not arrive for three or four weeks. Bakkafrost chief executive Regin Jacobsen has said equipment will be tested and possibly adjusted in the Faroes first. The vessel and equipment must also be washed and sanitised before making the journey south.