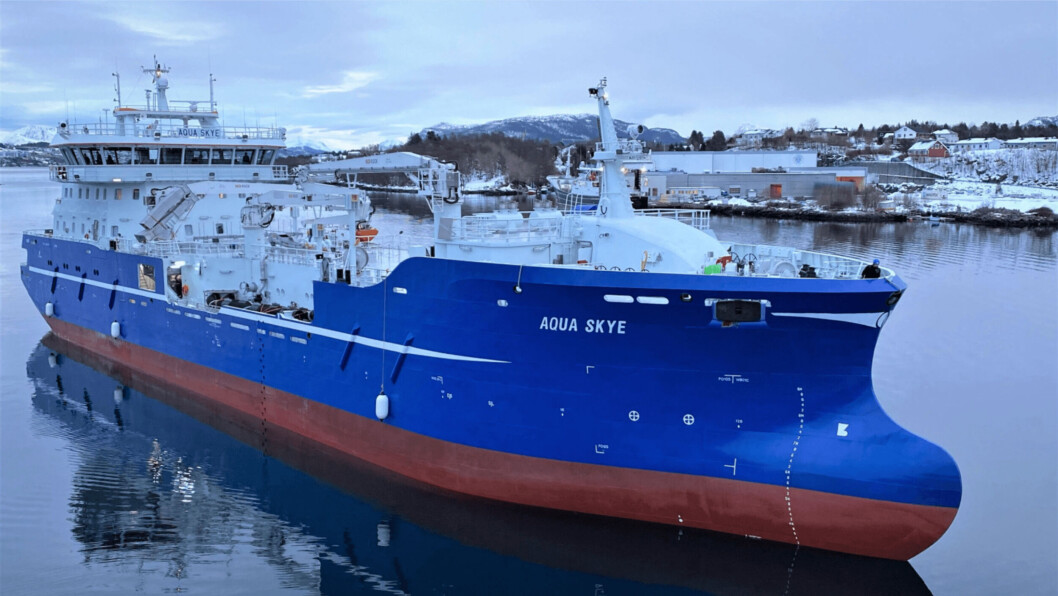 State-of-the-art wellboat built for Mowi Scotland
A new wellboat due to go on a contract with Mowi Scotland has arrived in Norway for final testing. The Aqua Skye is just over 84 metres long and 16m wide, and has a net well volume of 3,900m³.
DESS Aquaculture Shipping recently received the vessel from the Sefine shipyard in Turkey. It is the fifth wellboat in a series of six for DESS Aquaculture Shipping, which was until recently 50% owned by Mowi.
DESS chief executive Jon Are Gummedal said that the wellboat has been handed over from the yard, and has arrived in Norway where tests will be performed on its reverse osmosis plant which generates fresh water for fish treatments.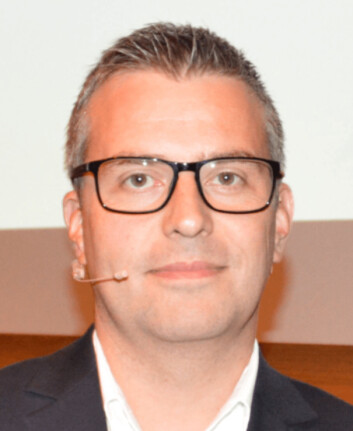 Long-term contract
"The wellboat will enter into a long-term contract with Mowi Scotland," said the executive.
"The ship will mainly perform treatment operations using fresh water and a reverse osmosis plant has been installed that can produce up to 4500m³ of fresh water per day and night.
"We have also made some adjustments to meet the customer's local requirements, otherwise Aqua Skye is similar to the previous ships in this series."
Emphasis on flexibility
Gummedal added: "We have placed great emphasis on flexibility where you can easily retrofit different types of de-lousing equipment on deck according to customers' wishes. As of today, the ship will be able to perform all types of operations such as smolt release, gentle treatments using fresh water, and carrying harvest fish."
The Aqua Skye is designed by Salt Ship Design and is equipped with dynamic positioning and an extra-large screened deck area. It also has self-cleaning fish tanks and a separate counting system. It is also equipped with a "waterfall" system for de-lousing during unloading.
Quieter operation
In addition, noise reduction measures have been taken to attenuate the sound the vessel emits during operation.
Like its sister ships Aqua Spa, Aqua Skilsøy, Aqua Havsøy and Aqua Maløy, the wellboat has a number of new design solutions, and has been developed especially with hygiene, quality and environmental aspects in mind, as well as providing significantly increased fish welfare.
It will a have permanent crew of eight, plus an apprentice.
Key facts
Shipyard: Sefine Shipyard
Building number: 40
Design: Salt Ship Design
Length: 84.6 metres
Width: 16 metres
Tonnage: 4000
IMO number: 9881093
Shipping company: DESS Aquaculture
Engines: 3x Yanmar 6EY22ALW - 1370 kW
Azimuth thruster: SRP 360 1400 kW from Schottel
Generator: Scania 220 kW
Navigation & Communication: Ozsay Deniz Elektonigi
Wheelhouse chairs: Aludesign
Fish handling: CFlow
RSW system: FrioNordica
Lifeboats: RFD / Survitec
The equipment
The Aqua Skye is equipped with a generator set consisting of 3x 6EY22ALW - 1370 kW supplied by Yanmar. Schottel has supplied an azimuth thruster of the type SRP 360 1400 kW.
The deck machinery on board is supplied by Adria Winch and the fish counter comes from Aquascan AS. Aludesign has been responsible for the chairs on the bridge. Elkon has delivered a propulsion package, in addition to, among other things, switchboards, transformers and shore power systems.
The HVAC system comes from Heinen Hopman in the Netherlands. High pressure washers are supplied by HL. Skjong AS. The paint comes from Jotun, while Kongsberg Maritime has delivered the DP system on board.
Marinfloc AB has supplied a bilge water separator. Red Rock Marine in Kristiansand has delivered cranes, capstans, MOB davits and MOB boats.
Cflow has delivered the fish handling equipment which has a capacity of 3900m³. Frionordica has been responsible for the refrigerated sea water system on board. Optimarin has provided a system for ballast water treatment.