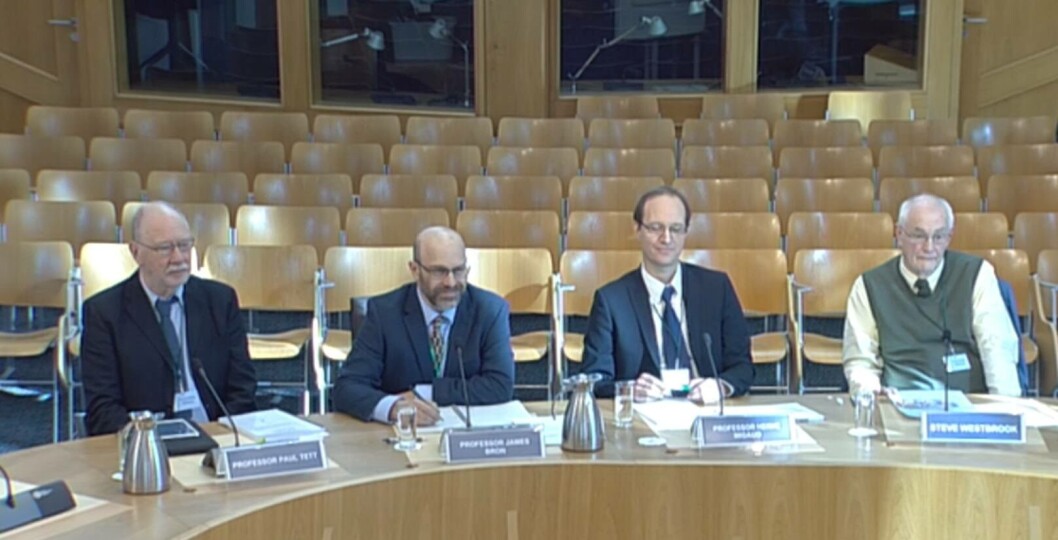 Inquiry told of salmon farming successes
A Scottish Parliamentary inquiry into the country's salmon farming industry has heard expert testimony that contrary to perceptions, sea lice are not out of control.
James Bron, Professor of Aquaculture at Stirling University's Institute of Aquaculture (IoA), told members of the Rural Economy and Connectivity (REC) Committee: "Many farms may have no sea lice at all." He added: "Mostly sea lice are under control in Scotland. To manage to stay on top on top of that is quite a feat."
Members of the committee also heard about the advances that had taken place in lice treatment over the last five years, the benefits the industry brings to rural communities, and why different production methods make it difficult to draw valid comparisons with Norway.
State of salmon industry
Bron was one of four experts giving evidence to the inquiry, alongside IoA Professor of Aquatic Breeding and Physiology, Herve Migaud, coastal ecologist Paul Tett from the Scottish Association for Marine Science (SAMS), and economist Steve Westbrook.
The inquiry's remit is to consider the current state of salmon industry in Scotland, identify opportunities for its future development and explore how the various fish health and environmental challenges it currently faces can be addressed.
One of the submissions it will consider is a critical report from the Environment, Climate Control and Land Reform (ECCLR) Committee, which carried out its own inquiry on the environmental impacts of salmon farming and claims an expansion of the industry is unsustainable in its present form.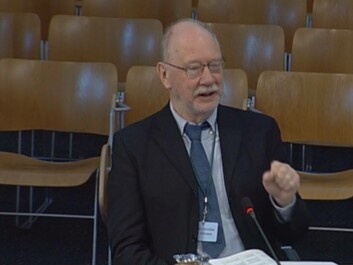 Much of the ECCLR Committee report is based on a review of existing literature on the environmental impacts of salmon farming, undertaken by scientists at SAMS.
Tett, one the authors of the review, told the REC Committee that because it was looking at published scientific evidence, the review might not be quite up-to-date.
In answer to a question from Glasgow Shettleston MSP, John Mason, Westbrook - author of a 2017 HIE and Marine Scotland report on value of aquaculture to Scotland – said there was no doubt that if the industry could achieve its aim of doubling production by 2030, there would be a market for its product.
Mason repeated a concern raised by the ECCLR Committee that finding enough feed to grow more fish could be a problem, but Migaud said: "There has been a lot of innovation to try to find an alternative diet [to fish oil and fishmeal]. I do not feel at the moment that diet would be a limitation to growth."
Asked by Banffshire and Buchan Coast MSP Stewart Stevenson what measures were being taken to improve the proportion of fish available for human consumption, Westbrook said companies were already trying to use as high a proportion as possible.
Eating cleaner fish
Convener Edward Mountain wanted to know if there was a market for selling wrasse and lumpsuckers for food when they were no longer useful as cleaner fish. Migaud said: "The industry is looking into this."
He said Ballan wrasse were eaten in Asia, but rarely in Europe. The wrasse blood also had interesting pharmaceutical qualities. "Industry and the science community is very interested in trying to find markets for this fish."
Uddingston and Bellshill MSP Richard Lyle, a member of both the REC and ECCLR committees, said he felt there were too many fish in pens and asked if that was a factor is disease. He also wanted to know why mortality was higher in Scotland than Norway.
Migaud said that while no mortality is acceptable, mortality in wild salmon is 90%. He added: "Salmon and salmonids are unique in their levels of mortality, very low compared to other species. In sea bass and sea bream you have up to 40% survival, in cod you get at best 10% survival."
He said salmon were farmed at a relatively low density of 15kg per m³, adding: "Salmon tend to congregate together. They are not fish that like to swim in isolation."
Learned how to cope
Bron said a combination of gill health problems caused by a range of different pathogens and environmental influences, and a change to treating for lice with non-medicinal methods had led to increased mortality.
"There's been a transition, we've had to learn how to deal with these problems. But I think the industry is now much better equipped to do that. We've had a lot of new technologies, new equipment in, both the remove sea lice and to treat these gill problems, and I think the industry has learned how to cope with those now."
Fulton MacGregor asked the panel what they felt the most significant impacts of Brexit would be.
Westbrook said he believed any loss of exports to Europe would be more than compensated by a growth in markets such as China. But he also said labour would be affected.
More labour from Africa
"My own view as an economist is that we will have a lot more people coming from African countries to do the lower-paid, less-popular jobs that people from countries like Romania are doing at the moment.
"On the farms there's been more overseas people working than there were 20 years ago. I would put that down to a large extent to what I've found in other sectors, which is an increased reluctance of not just Scottish, but British, people wanting to work outside, whether we are looking at forestry, nursery, fishing, agriculture, construction, so there would be some impact on the farms."
The next evidence session takes place next Wednesday, March 14. Confirmed witnesses include: Scottish Environment LINK, Salmon & Trout Conservation, Fisheries Management Scotland, Lochaber District Salmon Fishery Board.
View archive footage of today's meeting at https://www.scottishparliament.tv/meeting/rural-economy-and-connectivity-committee-march-7-2018. The salmon inquiry starts at 10.29am.