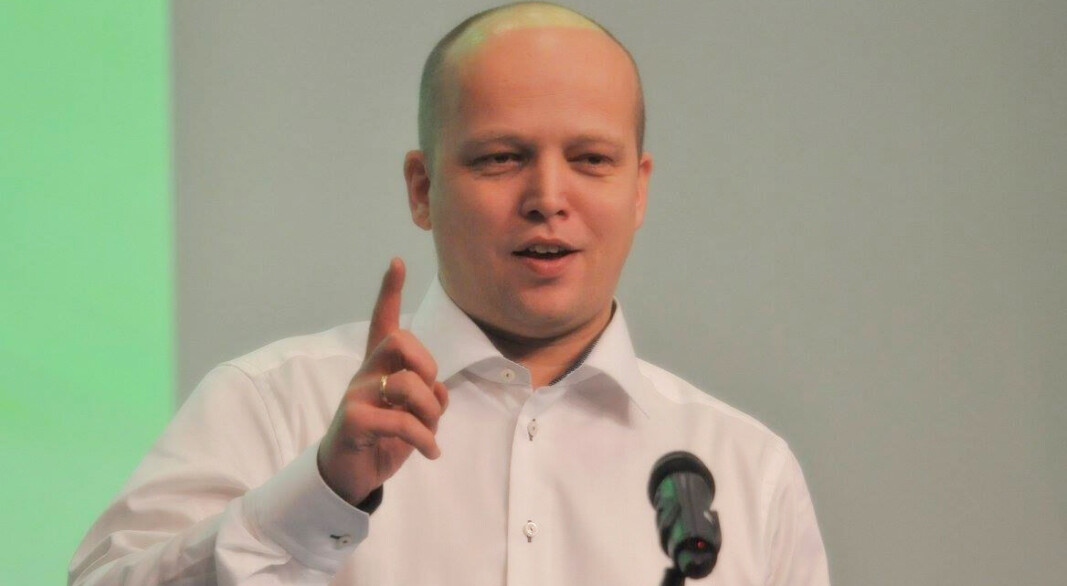 Norway's finance minister won't budge over salmon tax – but he may bend
Faced with the prospect of more than 1,000 people losing their jobs in secondary processing, Vedum wants to talk
Norwegian finance minister Trygve Slagsvold Vedum plans to hold another meeting about his proposed 40% salmon tax with the biggest players in the country's aquaculture industry on Friday.
Vedum revealed his intention to invite the companies to talk during an interview on Dagsrevyen, the daily evening news programme for NRK1, the main TV channel of the Norwegian Broadcasting Corporation, yesterday.
The meeting follows announcements by Norway's second and third largest farmers, SalMar and Lerøy, that they have issued lay-off notices to 696 and 339 workers respectively as a direct result of the proposed salmon tax, which the government calls a resource rent tax.
No tax on processing
Vedum pointed out to NRK that there would not be resource rent tax on secondary processing, but on the value added to fish during their time spent growing in marine sites.
But the proposal that the tax will be calculated on an average of spot prices, which are generally higher than fixed prices, means that farmers who also run secondary processing businesses will be better off selling head-on gutted fish to processors abroad.
This is because a "standard" spot price will never (or at least very rarely) be correct in an individual case due to fish quality differences. The proposed tax calculation method also means that farmers who sell at a lower fixed price will have to pay tax on spot price earnings they never made.
'They have to pay more'
Vedum said during Dagsrevyen that he was aware that there was a lot of discussion and that he will therefore invite the five or six of the largest companies to the ministry on Friday.
"We have to sit down a bit and start talking in unison," the finance minister said.
"They must take the proposal seriously. They are going to get a resource rent tax and they have to pay more. But they should not be taxed on income they do not have."
Meanwhile, Norway's Conservative Party today asked members of the Storting (Parliament) to block the proposal that the resource tax should be based on an average spot price.
"The Conservative Party is now asking the Storting to give salmon workers security before Christmas," said the party's business policy spokesperson Linda Hofstad Helleland to E24 website.