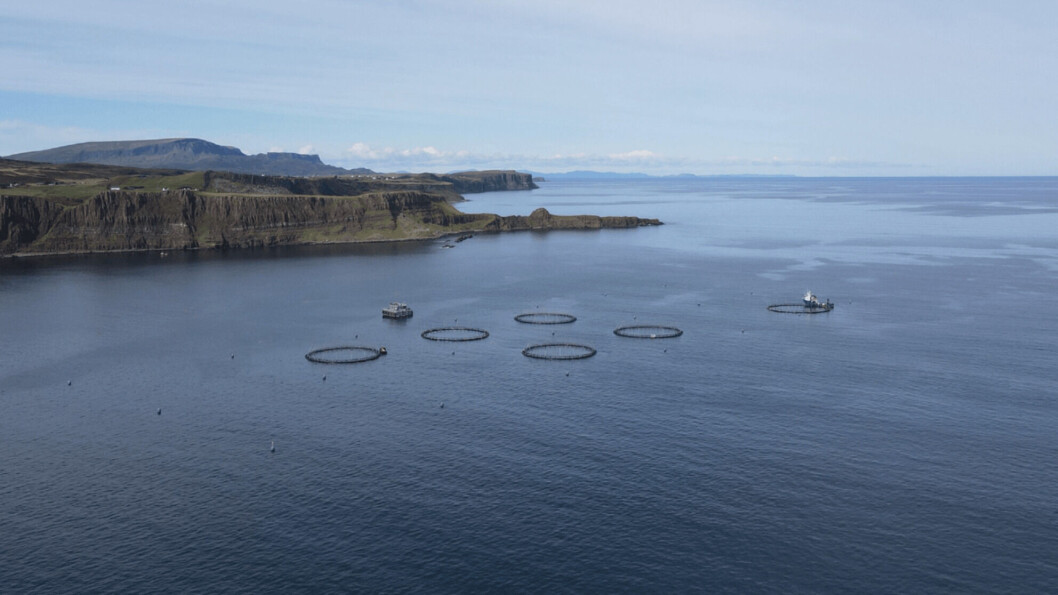 First feed barge delivered to Skye organic salmon farmer
Skye-based salmon farmer Organic Sea Harvest (OSH) has taken delivery of the first of two feed barges from Inverness-based supplier Gael Force Group.
The arrival of the SeaMate 350T marks the completion of farm infrastructure at Culnacnoc, which also has SeaQurePens, SeaQureMoor mooring grid, and SeaFeed technology, all supplied by Gael Force.
The 350-tonne capacity feed barge is the 90th barge produced by Gael Force, which builds concrete barges at Inverness and steel barges at its boatbuilding operation at Corpach, Fort William.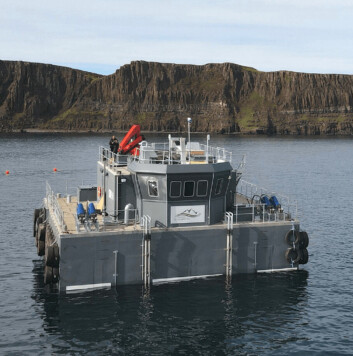 £4 million order
The barge is part of a £4 million order for Gael Force to fully equip OSH's exposed sites at Culnacnoc and Invertote.
Both sites have been stocked with fish produced by Landcatch at Ormsary, Lochgilphead. OSH is using underwater cameras to monitor consumption of feed, which has until now been delivered from a boat using a feed cannon. Gael Force expects to have OSH's second barge, destined for Invertote, ready in December.
"We are delighted with the quality and strength of all the equipment we have received from the team at Gael Force," said Organic Sea Harvest farms manager, Euan McArthur, in a press release from Gael Force.
"It is very reassuring to know that our farm technicians can care for our fish with the full knowledge that the equipment on site is offering us all a secure environment to work in."
Safety features
The barge has several safety features to protect farm personnel and the integrity of the barge, such as a bilge alert system, automatic sensors, and remote monitoring systems.
The SeaFeed System on board the barge is also designed to protect the health and safety of farm staff and protect the barge from the rigours of the sea.
Software for controlling fish feeding can be configured to ensure the salmon receive the correct amount of feed required during every meal.
OSH also has the option to control feeding and monitor barge safety from a planned land-based feeding centre via a secure link to the barge.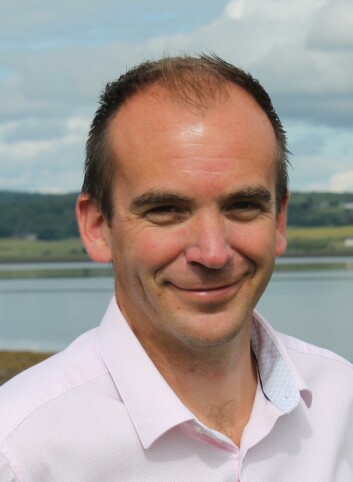 Satisying partnership
Gael Force Group sales director Jamie Young said: "Partnering with Organic Sea Harvest on their journey from the inception of their sites through to the installation of the equipment has been extremely satisfying.
"Choosing to invest locally in our products, technology, and services is important for our employees and the local communities in which we are present across Scotland.
"We are very grateful to Organic Sea Harvest for placing their trust in us to deliver tough, marinised equipment for use on their sites at Skye."
Five-year plan
In July, Gael Force Group announced a five-year expansion strategy to more than double both its sales and its 250-strong workforce.
The company has identified six key drivers for growth which it has placed at the core of its strategy: product innovation, manufacturing excellence, quality assurance, best-in-class service, sustainability, and export market development.
In July 2019 it opened a base in Grand Falls-Windsor, in Newfoundland, to serve the Canadian market.