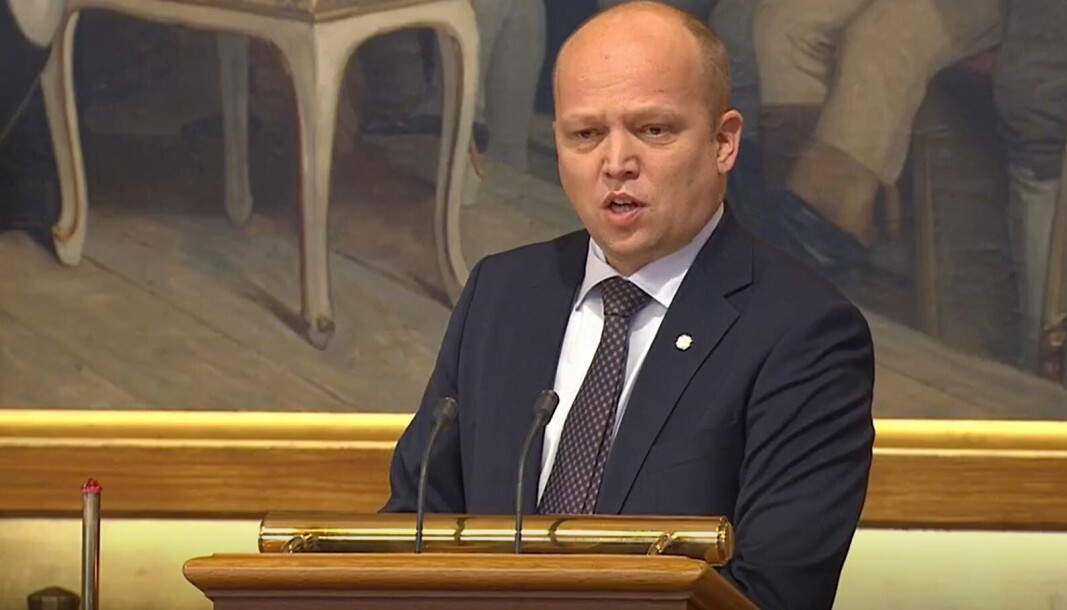 Norway paying a high price for salmon cash grab
The government plans to fill its coffers with a 40% tax on fish farmers but has lost £73m in cancelled licence fees and seen projects worth billions put on ice because of the proposal.
It started as a trickle but has become a flood.
When the Norwegian government announced last week that it planned a 40% "resource rent" tax on fish farmers, it also offered producers the chance to cancel purchases of extra biomass allowance (MTB) made earlier this year.
The country's second largest salmon farmer, SalMar, was quick to take up the government's offer, opting for a refund of the NOK 244.6 million (£20.5 m) it had paid for 1,223 tonnes of MTB.
"The company does not find it justifiable to pay the aforementioned remuneration," said SalMar, which pointed out that with Norway's 22% corporation tax adds, fish farmers would be paying 62% tax.
The farmers that chose a refund
SalMar returned 1,223 MTB tonnes for which it had paid NOK 244.6 million.

Emilsen Fisk returned growth purchase of 1% that cost it 6.8 m.
Nova Sea returned growth purchase of 1% costing 53.4 m.
Lerøy Seafood Group rescinded the purchase of 614 tonnes of MTB that cost 123 m.
Mowi rescinded purchase of 914 tonnes of MTB that cost 183 m.

Nordlaks rescinded purchase of 342 tonnes of MTB worth 68.4 m.

NRS rescinded purchase of 370 tonnes of MTB worth 62 m.

Cermaq rescinded purchase of 689 tonnes of MTB that cost the company 34 m.

SinkabergHansen returned 70 tonnes of MTB worth 14 m.

Edelfarm returned 1% extra MTB (price unknown) and so has Gratanglaks.
"The government's surprising proposal, without waiting for the recommendation from the government-appointed tax committee, has also led to an unpredictability on the part of the authorities which reinforces the need for a closer evaluation of the company's future investment strategies."
Rush for refunds
SalMar's choice of a refund on Friday was followed this week by the same decision from another seven of Norway's top 10 salmon farmers – Mowi, Lerøy, Cermaq, NTS (through its part-owned subsidiary Norway Royal Salmon), Nova Sea, Nordlaks, and SinkabergHansen. A mid-sized farmer, Emilsen Fisk, which has 6.6 licences, has also chosen a refund before the deadline expires at 23.59 tomorrow, as have smaller farmers Edelfarm and Gratanglaks.
In total, farmers have handed back more than 4,600 tonnes of MTB for which they had together paid approximately NOK 875 m (£73 m) to the state.
Many companies have also announced that they are putting investments worth billions of NOK on hold because of the tax proposal.
These include wellboat operator Rostein, which has stopped contracting newbuild vessels in Norway. The amount of expenditure withheld is unknown, but a wellboat usually costs between NOK 500 m and 1 billion to build.
Nova Sea has suspended a NOK 3.3 billion investment in a new slaughterhouse and hatchery, and Lerøy has halted a NOK 420 m investment already under way to increase processing capacity at Skjervøy in Troms.
Nordlaks
Nordlaks, which was planning to invest NOK 7 bn over the next six years, has put its plans on ice, and Cermaq, which envisaged investments of NOK 4 bn over four years, has done the same.
NRS, Firda Seafood, and wellboats owner Husøy Investeringsselskap have also halted projects.
In total, investments of over NOK 17 bn have been stopped or frozen.
The state's potential wealth tax income from the shareholders of the farming companies has also been reduced. Salmon companies listed on the Oslo stock exchange have seen their total share value fall by approximately NOK 53 bn since the resource tax announcement.
Fish farming Expert's Norwegian sister site, Kyst.no, has calculated that this reduces the state's wealth tax take by something in the region of NOK 320 m.