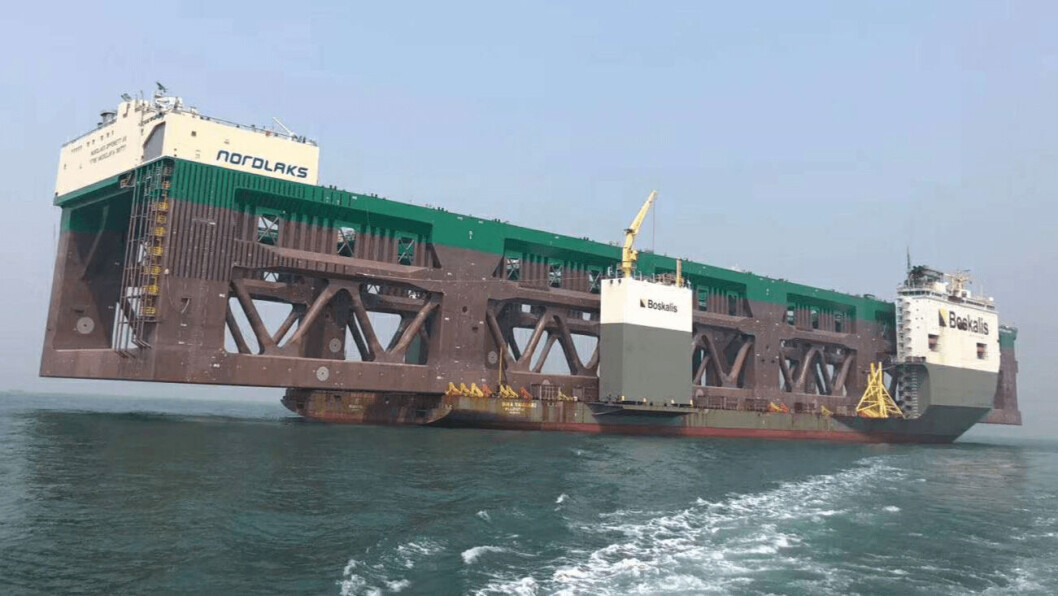 Havfarm is readied for long journey to Norway
The first version of the Havfarm, the huge ship-shaped salmon farm built in China for Norwegian farmer Nordlaks, has been loaded on to a specialist vessel ahead of its long journey to Europe.
The 385-metre long Havfarm, named the Jostein Albert, will be equipped with six 47x47 metre nets, made of HDPE mixed with copper and will hold 10,000 tonnes of fish.
It is being transported to Norway on the BOKA Vanguard, a semi-submersible heavy lift ship designed to transporting oil and gas rigs and able to carry loads of up to 110,000 tonnes.
'A long way home'
In a Facebook post, Nordlaks stated: "We continue to let ourselves be excited! The heavy cargo vessel BOKA Vanguard has arrived at Yantai. The shipyard and (BOKA Vanguard owner) Boskalis are now working on loading and securing the farm board on board the cargo vessel.
"Now it is approaching a long way home to Hadsel where the farm will be completed and then delivered to Nordlaks during the summer."
The journey follows the completion of several tests on the Jostein Albert at sea adjacent to the Raffles CIMC yard in Yantai, in China's Shandong province, where the farm was constructed.
The Jostein Albert is the first of two on order and is designed to remain permanently in one location. A second Havfarm, due for delivery in 2021, is designed to be moved from site to site.