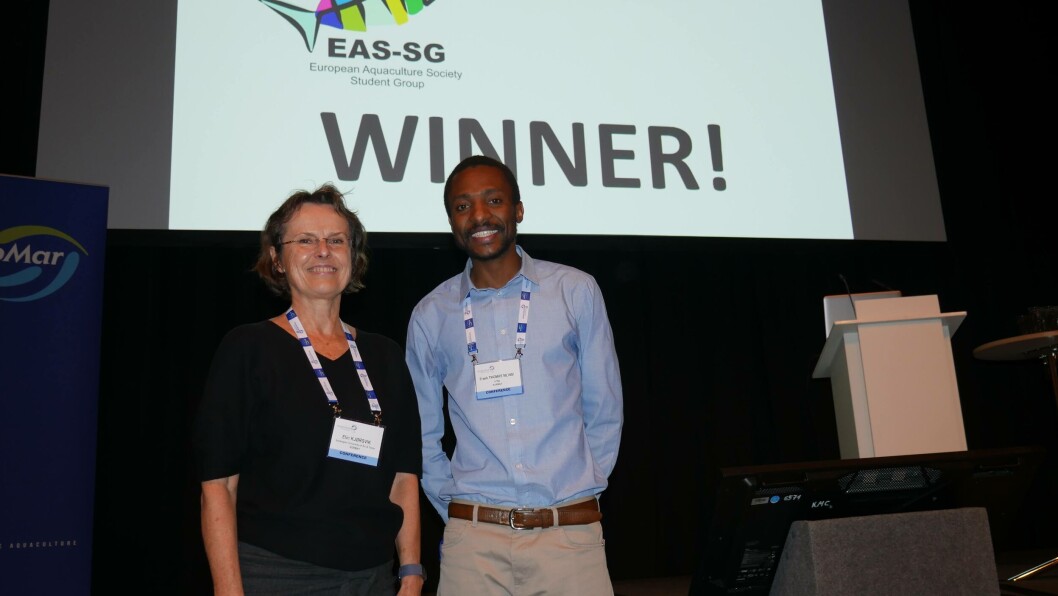 Lumpfish researcher wins student prize in Berlin
A Tanzanian student working on cleaner fish research at Norwegian technical university NTNU today won the Student Spotlight Award at Aquaculture Europe 2019 in Berlin.
Frank Mlingi was one of three finalists chosen from around 150 who submitted abstracts on their work. The three finalists each gave three-minute presentations at the conclusion of the opening plenary session at the Estrel Congress Centre, after which delegates took part in an online vote to choose the winner.
Mlingi is working on the reproductive biology of lumpfish, researching how to use light and temperature to manage sexual maturation and also improve the quality of eggs.
Surprised by result
"I did not expect to be in this position [of being a finalist], and I did not expect to win it," said a delighted Mlingi, who paid tribute to his supervisor Elin Kjørsvik, the CycloBreed project team and members of NTNU's Department of Biology.
Mlingi gained a degree in aquaculture in Tanzania, and a master's in Belgium. He is in the third year of an NTNU-funded doctorate. The lumpfish project is funded by FHF.
It is the first time the Student Spotlight Award has been presented by the EAS.
Aquaculture Europe 2019 runs from today until Thursday and features hundreds of 20-minute presentations by scientists and aquaculture industry experts.
There is also an accompanying trade show.