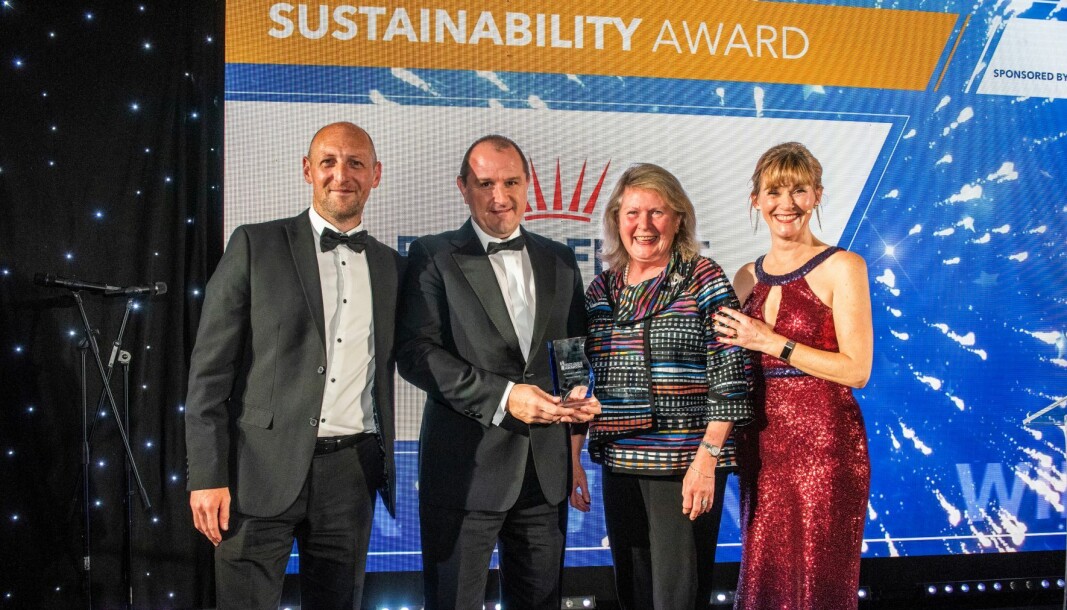 Bakkafrost Scotland shrinking its carbon footprint
Salmon farmer has reduced emissions by 16% and there are more cuts to come
Bakkafrost Scotland has achieved an overall reduction of 16% in greenhouse gas (GHG) emissions and is on course for a 50% absolute reduction of GHG emissions across its value chain by 2030, managing director Ian Laister has said.
Laister was speaking as the company received a sustainability award at the Highlands and Islands Food and Drink Awards in Inverness last week.
Bakkafrost Scotland (formerly the Scottish Salmon Company) also received the Primary Producer award at the ceremony. In September, Bakkafrost Scotland's Native Hebridean Smoked Scottish Salmon was named 'Product of the Year' and 'Artisan Product of the Year' at the Scotland Food & Drink Awards.
Investing in RAS
"We are heavily investing in innovative recirculating aquaculture system (RAS) technology, starting with our RAS facility in Applecross that has an innovative post smolt facility to improve fish health and welfare," said Laister.
"Our globally unique strain, Native Hebridean, is of pure island heritage and bred from wild stock; the story behind it, and its artisan production process, epitomises sustainable salmon production.
"We source around 60% of products and services locally, driving sustainable change in our supply chain.
"Finally, thank you to our team, the people who are key to the success of our business. Our Sustainable Innovation Forum is made up of employee representatives from key parts of the business to embed sustainability within our culture, ensuring strategic focus on key projects, driving continuous improvement."
18 million half-kilo smolts
The company's Faroese owner, P/F Bakkafost, is investing around £500 million in the Scottish operation over five years. Most of the money will be spent on three RAS hatcheries / post-smolt facilities that will produce a total of 18 million 500-gram post-smolts annually. Applecross is the largest, with the other RAS planned in as-yet-unnamed locations in the north and south of the company's Scottish production area. Larger smolts are more robust and spend less time at sea and are therefore less vulnerable to threats such as sea lice, amoebic gill disease, algal blooms, and micro-jellyfish, which have been a particular problem for the Scottish industry this year.
Bakkafrost has also been re-equipping farm sites and making more boats available for freshwater treatments and delousing.
Trade delegation
Bakkafrost Scotland recently gave seafood buyers from Thailand a taste of life on the cage edge as part of visit hosted by the UK's Department of International Trade (DIT).
The delegation was from the company Indoguna Thailand, which imports and distributes fresh seafood products out of its base in Bangkok.
The group first visited Europe's largest fully modernised fishing port in Peterhead before crossing Scotland to Loch Fyne for their visit to Bakkafrost.
Finally, the buyers were taken to Grimsby, where they met with local stakeholders and visited an artisanal smoking house.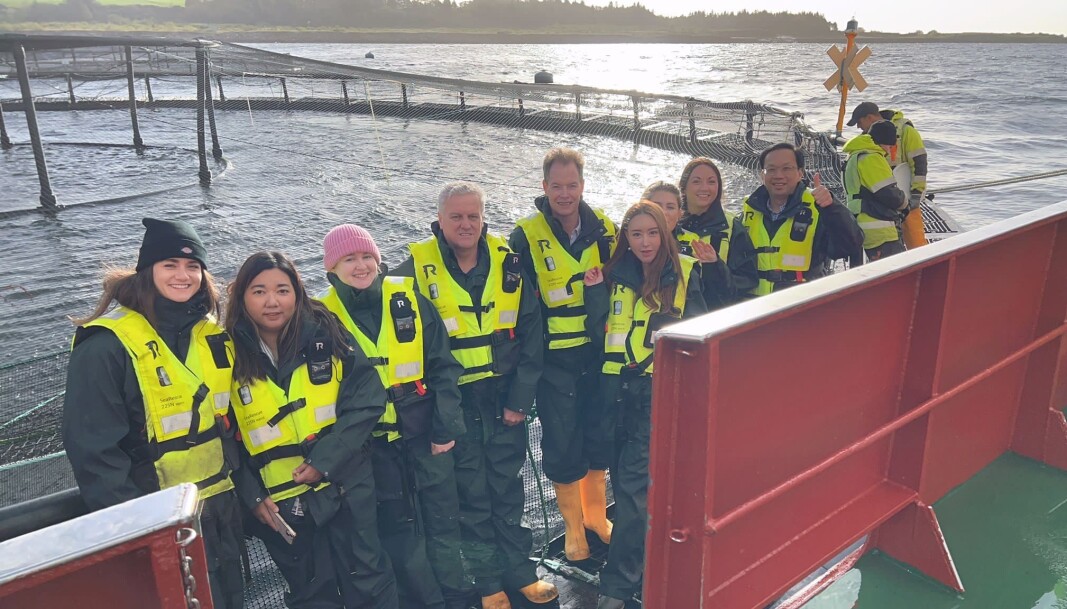 Continuing push
Rachel Gwyon, director of agriculture, food and drink at DIT, said: "Visits such as this are part of our continuing push to identify companies from around the world that are interested in our seafood and connect them with suppliers here in the UK.
"By visiting the great businesses that we have operating in Scotland and in Grimsby, we can show potential buyers first-hand the brilliant produce we have to offer."
Exports provide the majority of income for Bakkafrost Scotland.
The company's harvest was 15% smaller last year than in 2020, and revenue consequently declined from £180.6 million in 2020 to £154.3 m last year, due to decreases in sales in the UK (2021: £44.2 m; 2020: £61.7 m) and Europe (2021: £84.7 m; 2020: £101.7 m).
But revenue from sales to North America increased from £9.9 m in 2020 to £13.7 m, and revenue from sales to the rest of the world increased from £7.3 m in 2020 to £11.7 m.