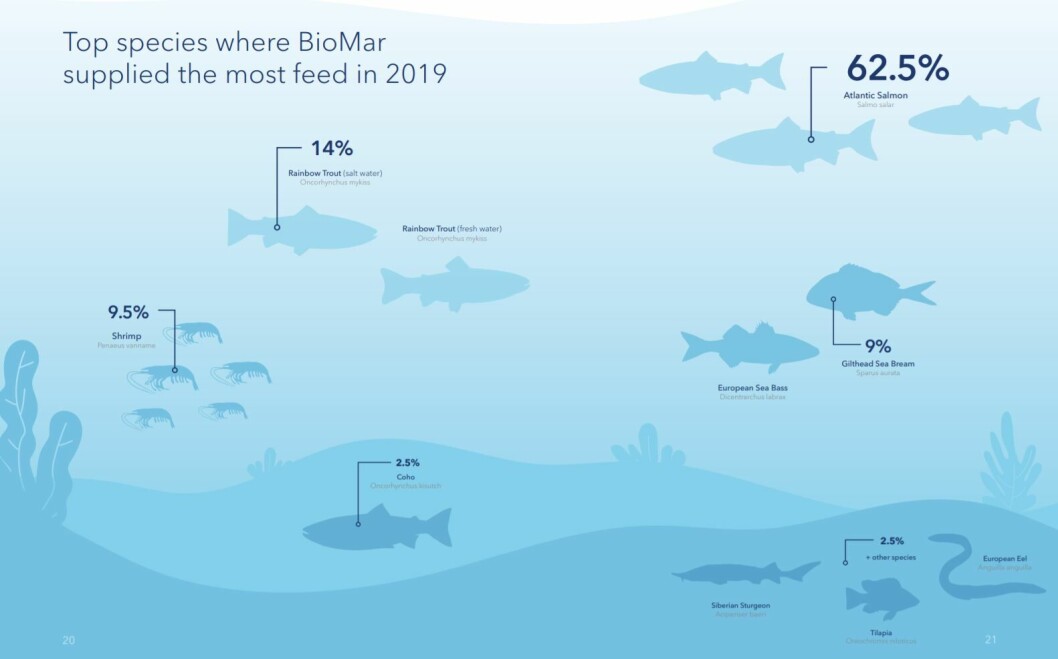 BioMar five-year average FIFO ratio of 1:1 or below
High use of trimmings and the use of novel ingredients has enabled feed producer BioMar to achieve a five-year average of 1:1 or below Forage Fish Dependency Ratio (FFDR) for its raw material usage.
This is one of the findings contained in its Integrated Sustainability Report for 2019, released today.
"Although it seemed unlikely that it would be possible to achieve a great FIFO (Fish In: Fish Out) ratio every year, due to ever changing market conditions, we see that by embedding a sustainability mindset in our culture we have been able to achieve this impressive milestone while still delivering on our financial results", said chief executive Carlos Diaz in a press release.

Sustainability and innovation
The company said sustainability and innovation had long been core pillars, and although market conditions for raw materials change from year to year, the investment in innovation for alternative ingredients was paying off. As BioMar is solely dedicated to aquaculture feeds the success of the company depends on the sustainable future of the aquaculture industry.
"Only with the wider adoption of novel ingredients in sustainable feeds will these products become cost competitive and mass market scale can be achieved," said BioMar's global sustainability director Vidar Gundersen.
"We see a future where seafood from aquaculture will be seen by consumers as the sustainable protein choice for the good of the planet."
Ocean stewardship
Gundersen added: "We are now entering the decade of ocean science as declared by the United Nations, and this year's report highlights the importance for good stewardship and management of our oceans. We see the wider adoption of novel ingredients as being important for achieving this.
"We are also taking transparency and traceability one step further and our partner Orivo recently launched a solution for DNA-based authenticity of marine products which we already have implemented to our quality procedures".
BioMar is this year reporting more of its community and society activities as the United Nations (UN) Sustainable Development Goals state that sustainability goes beyond products and operations.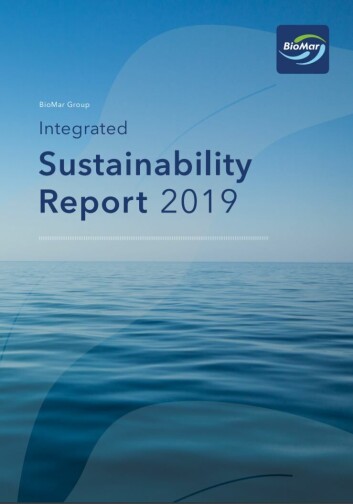 Education is key
"We have always believed that education and knowledge exchange is the key to driving long term sustainable development and we are proud to this year add to the report our achievements in these areas," said Carlos Diaz.
"Later this year we will review our corporate KPIs (key performance indicators) with the intention of setting ambitious targets that will continue to drive us even further."
BioMar is launching its sustainability report with a marketing campaign to help promote sustainable practices and facilitate in the wider adoption of sustainable feeds across the aquaculture industry.
The report includes information of individual feed plants. In 2019 BioMar's plant in Grangemouth, Scotland produced 124,348 tonnes, 9% of the 1,395,644 tonnes produced at the company's 14 plants worldwide.
In Norway, the factory at Myre produced 205,289 tonnes (15%) and the Karmøy plant produced 192,313 tonnes (14%).
The Sustainability Report can be downloaded here.