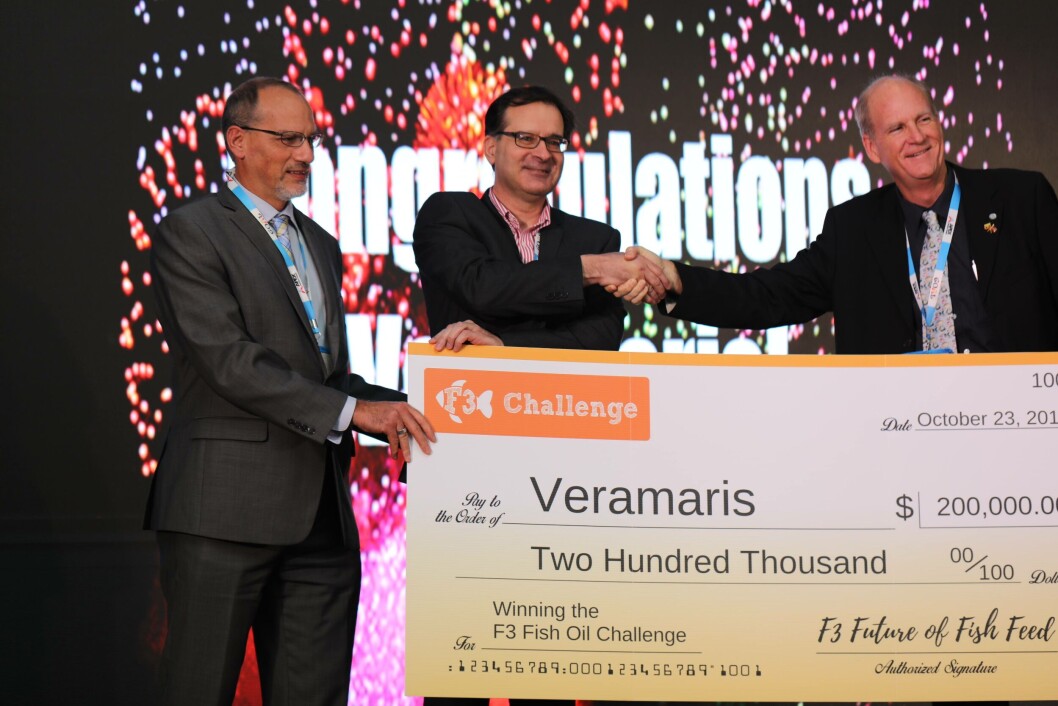 Veramaris thanks 'pioneering' salmon farms for fish-free challenge win
Algal oil producer Veramaris has thanked "pioneering" Norwegian salmon farmers after winning the F3 Fish Oil Challenge, in which competitors had to sell the largest amount of "fish-free" alternatives to oil derived from marine ingredients.
The Challenge is a $200,000 prize to accelerate commercial-scale adoption of alternative feed ingredients that reduce fish farming's reliance on wild-caught fish.
According to F3 calculations, the EPA, DHA, and ARA (arachidonic acid) volumes sold by Veramaris are equivalent to nearly 90% of the 2 billion fish conserved through the Challenge.
Algal oil trial
The world's biggest salmon farmer, Mowi, has committed to trial Veramaris' winning algal oil, as have China's Yuehai Feed Group and AlphaFeed.
"I have to thank those courageous leaders along the entire value chain for their collaboration and for taking significant steps to ensure a continued sustainable future for aquaculture," said Veramaris chief executive Karim Kurmaly during the award ceremony at the Global Aquaculture Alliance GOAL conference in Chennai, India.
The Veramaris volumes were predominantly produced at two pilot facilities in Slovakia and the United States. On July 10 this year, Veramaris opened its world-scale facility in Blair, Nebraska. The capacity at the Blair site can cover 15% of global salmon aquaculture's need for the essential omega-3 fatty acids EPA and DHA.
Supermarkets on board
UK retail giant Tesco has put its weight behind fish oil alternatives and is to issue revised own-brand farmed salmon standards, which will include targets to reduce the amount of wild-caught fish fed to the salmon the company sources.
In June this year the French retailer Supermarché Match began selling salmon fed with natural marine algal oil produced by Veramaris.
Match sources the fish from Norwegian farmer Lingalaks, which has been feeding a sustainable salmon diet developed and manufactured by feed producer Skretting since October last year.