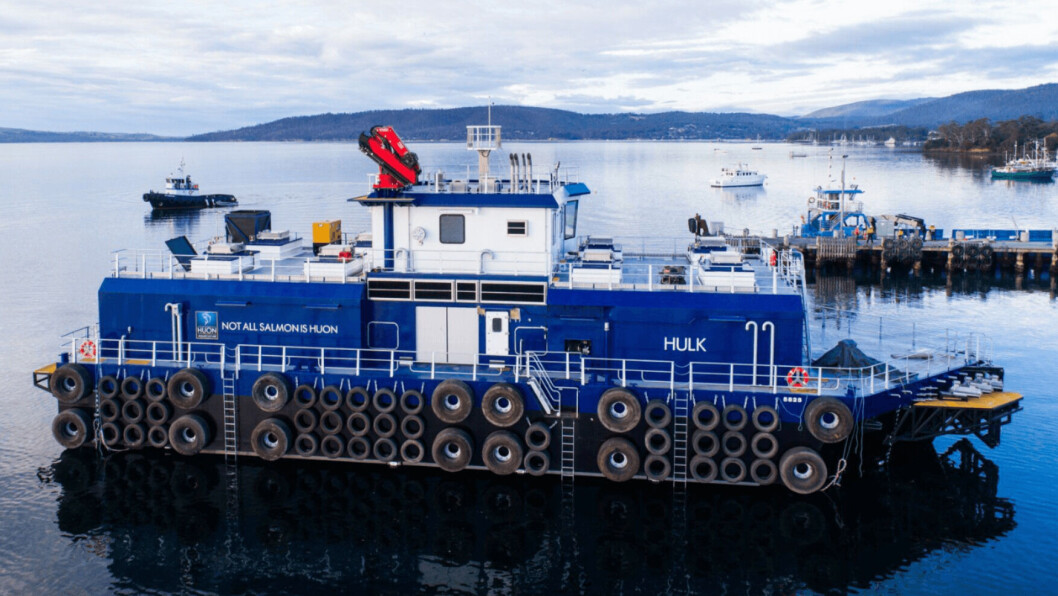 Modern marvel: Huon adds the Hulk to barge line-up
Tasmanian salmon farmer Huon Aquaculture has taken delivery of a new feed barge, named the Hulk. The 600-tonne barge and its stablemate, the Hogan, are the largest in the southern hemisphere.
The Hulk is Huon's seventh feed barge and completes an Au$45 million investment in more sustainable and safer fish feeding systems.
"Our locally designed and built feed barges are at the centre of our feeding system - the barges are moored out at sea at each farming lease but are remotely controlled from our Hobart office," said Huon in a Facebook post.
The barges contain high-tech feed systems which include video pellet-recognition software to determine when the fish are hungry and when to stop feeding, reducing wastage and environmental impact.
Storm Bay
"Huon's first feed barge, aptly named the Huon, was launched in June 2014 and represented the first of five 320-tonne feed barges to be integrated into our farming operations, in addition to our two 600 tonne 'girls'," wrote Huon.
All seven feed barges have been built by steel fabrication company Crisp Brothers & Haywards in the Margate shipyard in Tasmania.
The Hulk will be used in Storm Bay, known for challenging conditions.