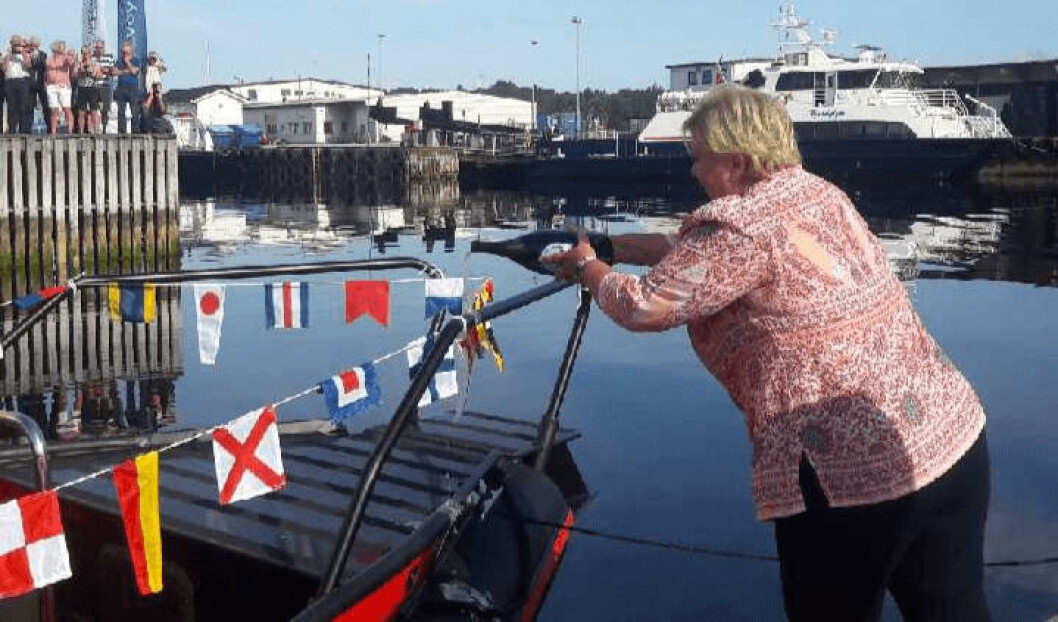 Norwegian premier christens 'world's fastest' electric boat
The Norwegian prime minister, Erna Solberg, has officially named what its makers believe to be the world's fastest serial-produced electric boat, Evoy 1.
While the makers put a question mark after their claim, there's no denying that with a 100 kWh battery pack powering a motor that can deliver up to 900 hp, the boat has a kick.
Of more concern to fish farmers might be the boat's capacity to work.
"If we run it at 20-25 knots, it has battery capacity for one hour of operation," Leif A Stavøstrand, from the boat's manufacturer, Evoy AS, told Fish Farming Expert's sister site, Skipsrevyen.no.
That running time increases hugely if the boat is run at 4-5 knots.
Full charge in 30 minutes
The special thing about the boat, and its battery equipment, is that it can be fully charged in 30 minutes using a high-speed charger.
"This means that it is ideally suited as a local boat in the aquaculture industry, or as a sightseeing vessel in a cruise context," added Stavøstrand.
Evoy marketing manager Christopher Butlin said the company is primarily focusing on the commercial market, but that the leisure market is certainly within reach and will be a natural continuation.
He said the highest speed the boat had reached so far was 49 knots, but added: "We have a lot more room for speed. We're concentrating on optimising the system for efficiency, and are only using 500 of the motor's 900 hp."
The company is hoping to beat the current record of 51.3 knots in the autumn.
LTO batteries
LTO batteries are designed for frequent, fast charges. Toshiba has adapted this battery type for maritime use based on 10 years of experience with LTO batteries used in buses. Now LTO batteries are on their way into the speedboat segment precisely because they can withstand frequent and fast charging.
With a lithium titanium oxide (LTO) battery pack from Xalt Energy in Michigan in the United States, hull from Helgeland Plast in Norway, motor from Germany and frequency converter from Swiss-Swedish multinational ABB, it is an international composition.
"We bring all the components to Florø where we have our own plant that assembles the vessels," said Stavøstrand, who emphasised that the testing of the vessels will be rigorous so that customers get faultless products.
"Price-wise, this will be a profitable investment," promised Stavøstrand, who said that the operating and maintenance costs of a propulsion system like this are very low.
Evoy AS will participate in Aqua Nor and will present the vessel to the entire aquaculture industry.