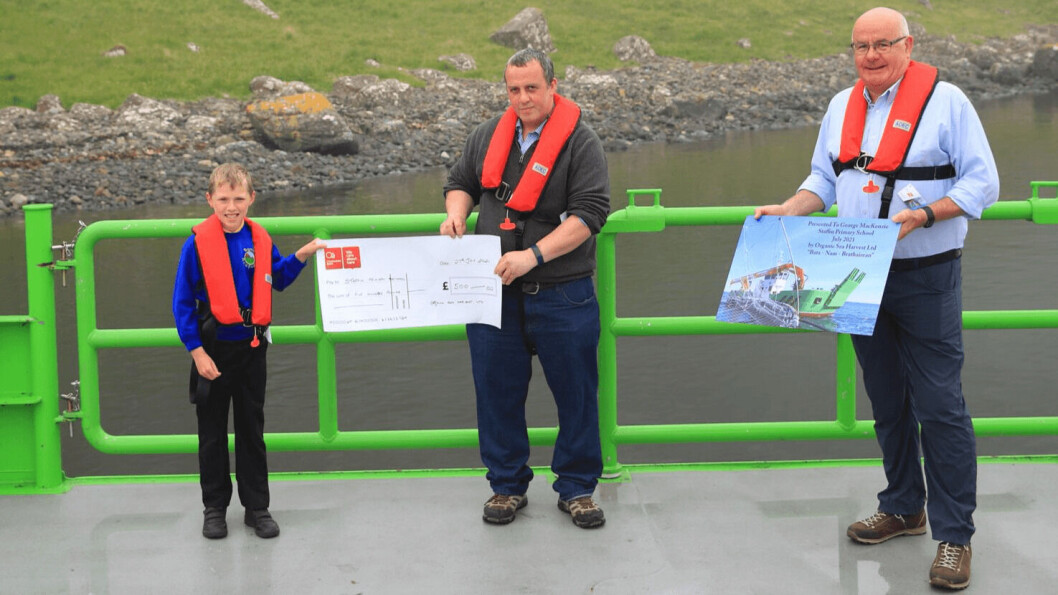 Cheque this out: salmon farmer rewards pupil and his school for naming boat
Skye salmon farmer Organic Sea Harvest (OSH) has presented a commemorative poster-sized photo to eight-year-old Staffin Primary School pupil George MacKenzie, who won a competition to name the company's new workboat. The youngster was also given a £500 cheque for his school.
George suggested the Gaelic name Bàta nam Bràthairean, which translates as Boat of the Brothers. The name references the distinctive headland of Brothers' Point, near OSH's existing Culnacnoc fish farm.
Organic Sea Harvest (OSH) approached Staffin Primary School last year to ask the pupils for help naming their new 19-metre landing craft utility vessel, which was built by Exeter-based Coastal Workboats Scotland and designed and supplied by Netherlands-based international shipbuilder Damen.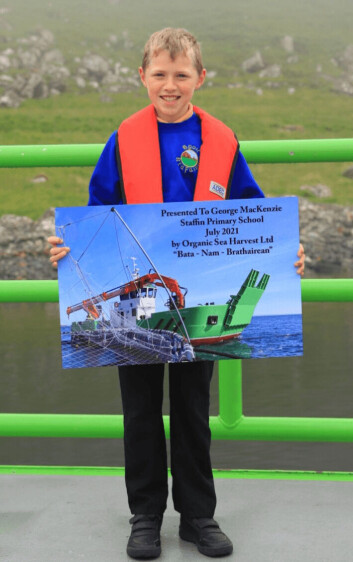 Local connection
The only criterion OSH stipulated was that the name must have a connection to the Staffin area. The school submitted a large selection of names, with the winner chosen by OSH directors.
Earlier this week, George and his family headed to Staffin slipway to see the Bàta nam Bràthairean and receive the school's cheque and his poster.
George explained that he had chosen the name after he had visited Brothers' Point and because of the nearby OSH fish farm site, according to an article on the OSH website. "I was happy when I heard I'd won," George said. "I went home and told Mum and said: 'Guess what, I won the boat competition!' I really like the boat. It's very big."
More schools
OSH co-founder, Alister MacKinnon and chief operating officer Robert Wyvill handed the cheque and poster to George in front of the vessel.
"As a company, our intention is to be involved with the local community and we are delighted to have had a pupil from Staffin Primary School name our boat," said MacKinnon.
"We hope to work with more local schools so they can understand how fish are farmed and know what's involved in producing fish to organic standards on our fish farms. As a company, our ethos is to invest in the community as much as possible.
"We were delighted to welcome George and his family aboard Bàta nam Bràthairean on Tuesday and we are pleased the vessel has such a fitting name with strong local connections."