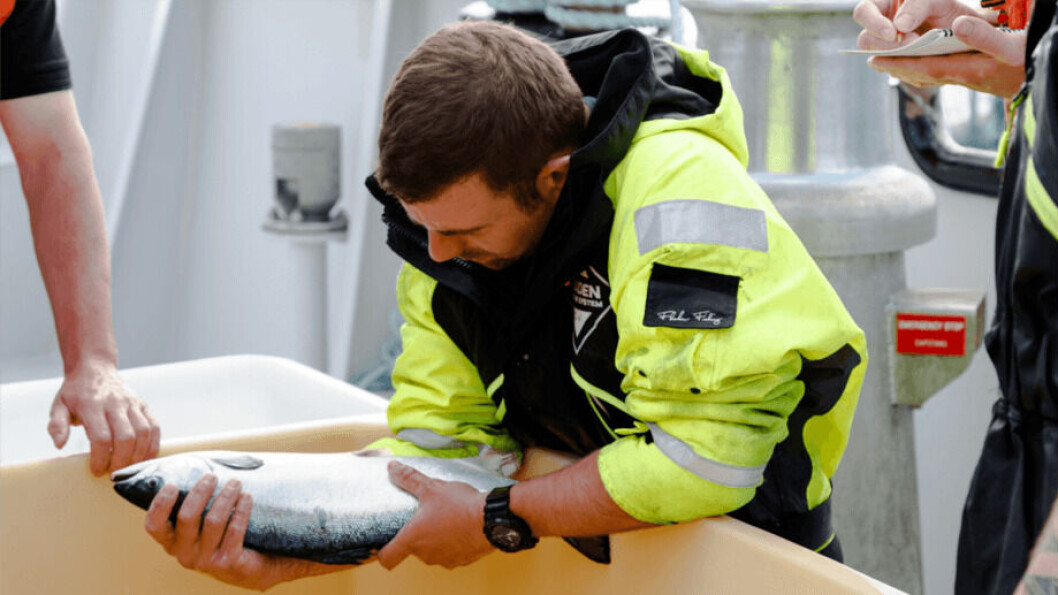 Mowi Scotland earnings hit hard by fish health issues
Mowi Scotland's operating profit fell by 84% in the first quarter of 2020 compared to the same period last year as the salmon farmer continued to tackle problems with disease and climate-related issues.
Operational earnings before interest and tax (EBIT) were €5.7 million in January to March, down from €35.8m in Q1 2019, Mowi revealed in its Q1 report. EBIT per kilo was €0.63 (€2.27).
The first quarter harvest volume was 9,036 tonnes gutted weight (Q1 2019: 15,787 tonnes). Volumes were negatively impacted by a challenging biology in 2019 continuing into the first quarter of 2020 and lower production, reported Mowi.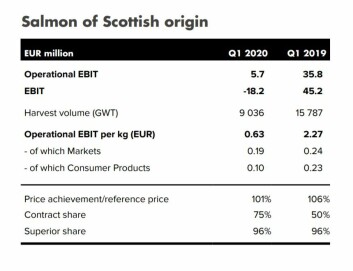 Challenging since mid-2019
Harvest weights were also lower because of early harvesting in the quarter due to challenging biology particularly at sites in the Western Isles. This also led to lower prices for the fish, although price achievement was 101% (106%) of the reference price, and 96% of the harvest was classed as superior share, the same as in Q1 2019.
"Full cost per kg increased by as much as 33% compared with the first quarter of 2019. The large increase was due to negative scale effects and increased biological costs and mortality costs," reported Mowi.
"The biological situation in our Scottish farming operations has been challenging since mid-2019, with several issues including Pasteurella Skyensis, PD, algal bloom and sea lice. This has coincided with a period of record high sea water temperatures and many winter storms.
Treatment losses
"Consequently, costs for the harvested generation were high. Production has also been lower than in the first quarter of 2019 due to the biological situation and increased number of treatments. Incident based mortality losses amounted to €2.7m related to mainly related to amoebic gill disease and treatment losses (€0.2m in the first quarter of 2019).
"Although somewhat improved, the biological situation still requires close monitoring, especially related to sea lice. In relation to Pasteurella Skyensis, a vaccine has been developed and is undergoing field trials.
"Going forward, costs are expected to improve as volumes recover and the company starts harvesting from a new generation."
Despite the challenges it has faced, Mowi Scotland – the county's biggest salmon farmer by a large margin - expects to harvest 64,000 gwt this year.
Ireland and Faroes
No harvesting took place in Q1 in Ireland, and Mowi made an operating loss of €1.2m. Incident-based mortality cost the company €400,000 (Q1 2019: €1.7m).
"Production was good in the quarter and survival rates improved from the comparable quarter in 2019," stated Mowi.
Operational EBIT in the Faroes was €5.2m (€1.9m) and harvest volume was 1,851 gwt (1,126).
EBIT per kilo was €2.79 (€1.69), the best of all Mowi's regions, with the majority of fish being sold to customers in Russia at favourable prices.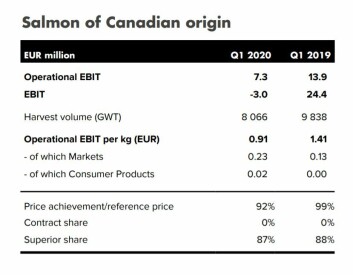 Canada
In Canada, operational EBIT was €7.3m (€13.9m) on a harvest of 8,066 gwt (9,838). EBIT per kilo was €0.91 (€1.41).
"The reduced earnings from the first quarter of 2019 were due to reduced harvest volumes and increased costs following challenging environmental conditions in both Canada West and Canada East in 2019," stated Mowi.
"Overall market prices for salmon of Canadian origin increased from the comparable quarter and were particularly high in the beginning of the quarter on strong demand and reduced supply.
"However, market prices decreased during the quarter due to the Covid-19 pandemic and the related lockdown measures which impacted the food service segment. The combined price achievement for our Canadian operations was 8% below the reference price in the first quarter of 2020 (1% below in the comparable quarter). Price achievement was negatively impacted by winter sores."
Production improved from the comparable quarter on more favourable temperatures in Canada East, said Mowi.
"Due to low volumes in sea, no harvesting is expected in Canada East until September 2020."
Chile and Norway
In Chile, operational EBIT was €16.6m (€29.2m) on a harvest of 13,669 (€19,180). EBIT per kilo was €1.21 (€1.47).
"Our price achievement for Chilean salmon was 9% lower than the reference price due to downgrading and lower prices in Brazil," reported Mowi.
"Downgrading was mainly due to SRS-related sores, and the superior share was 85% in the first quarter of 2020 (90%). Contribution from contracts relative to the reference price was positive in the first quarter of 2020 and 2019. The contract share was 43% in the quarter (21%)."
Average harvest weight was lower than in the comparable quarter on "somewhat more challenging biology related to sea lice and SRS".
In Mowi's home country of Norway, operational EBIT was €83.7m (€116.1m) on a harvest of 50,492 gwt (56,135).