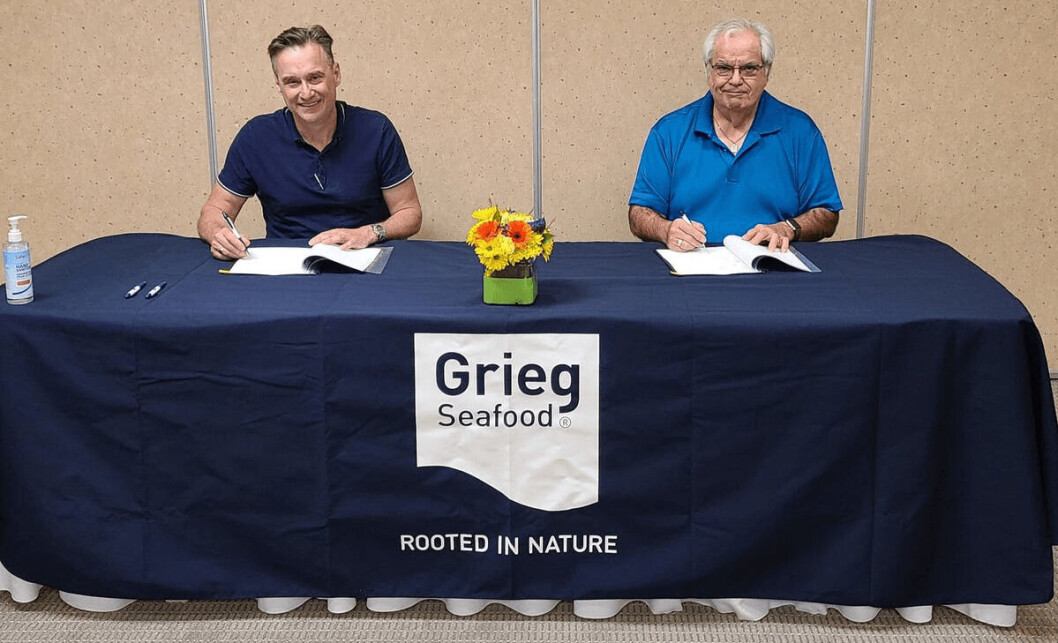 Working with salmon farmers 'makes sense', says First Nation
An economic development leader with a British Columbia First Nation has urged other Nations to seize the chance of working with salmon farmers.
Councillor Thomas Smith, a member of the Tlowitsis First Nation, made the call after a company belonging to the Nation signed a five-year net cleaning contract with Grieg Seafood BC.
Chief's Pride Aquaculture Corp. will assume responsibility of all net-cleaning operations at Norwegian-owned Grieg's three salmon farms in Tlowitsis territory in the Clio Channel commencing next month. The Clio Channel separates Turnour Island and West Cracroft Island, which lie between the north-east coast of Vancouver Island and the British Columbia mainland.
The contract includes a lease of net-cleaning equipment, a skiff, and crane barge. As part of on-site operations, Chief's Pride employees will join Grieg's staff in their accommodation barge in Clio Channel which will provide kitchen, laundry and fitness facilities during their shifts.
"The Tlowitsis are always looking for opportunities that will benefit the Nation monetarily and provide potential jobs for our members," said Smith in an article on Grieg Seafood's website.
"As much as there seems to be controversy about the business, we believe many First Nations should be looking at long-term relationships with salmon farming partners.
"There are only so many opportunities available, and most of the Nations have traditional territories adjacent to the inlet waters - it only makes sense. As a participant in the Canadian Aquaculture Industry Alliance's Indigenous Partnership Network, it looks like more Nations will be looking at aquaculture in the future."
Advancing reconciliation
Grieg, which has farmed in Tlowitsis' territory in agreement since 2014, said the new business venture offers another opportunity for both parties to expand their partnership.
"We're really trying as a company to learn about, and advance, reconciliation with First Nations, and this allows us to do so with a trusted partner," said Grieg BC managing director Rocky Boschman.
"We need to move beyond traditional benefits agreements and find other ways that we can work closer together."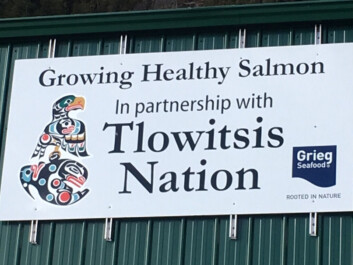 'Stake in the game'
Grieg's business development manager Trevor Gatzke approached the Tlowitsis in late January with the net-cleaning contract idea and a goal to work with the Nation so they could "have a stake in the game" supporting salmon farming in their own territory.
"This contract was developed with the Nation so they can profit directly," said Gatzke. "We're contributing the equipment in a leasing arrangement, and they will bring the job opportunities to their members. This will be very beneficial for both Grieg Seafood and the Tlowitsis, and it also really cements our relationship."
"Grieg recognizes the responsibility of reconciliation, to work with and build opportunities with First Nations," added Gatzke. "We operate our salmon farms in First Nations' waters, and it's our responsibility to work with those Nations. If we're going to be successful, First Nations should share in that success with us. It's that easy."
'Ahead of the curve'
Thomas Smith said the contract presented an opportunity for the Tlowitsis to work closer with Grieg and would enhance the already great relationship the Nation has with the company.
"When it comes to reconciliation, we think Grieg Seafood is ahead of the curve in developing its working relationships with First Nations," said Smith.
The Tlowitsis' support for salmon farming shows another side of the relationship between salmon farming and First Nations to that seen in areas to the north and south.
The Clio Channel area is sandwiched between the Broughton Archipelago, where salmon farming is being phased out over several years under an agreement with First Nations opposed to the industry, and the Discovery Islands, where federal fisheries minister Bernadette Jordan has ordered the closure of 19 farm sites by June next year.
Wild stocks
Jordan said her decision was influenced by First Nations who fear salmon farming harms wild salmon stocks, but it ignored scientific conclusions by her own Department of Fisheries and Oceans (DFO) and was regarded by many as political decision to secure Liberal Party votes in urban Vancouver, where many residents oppose the industry.
Two Discovery Islands Nations have also criticised the minimal amount of consultation carried out by the minister ahead of her decision, with one FN leader saying his people were "railroaded" by the government.