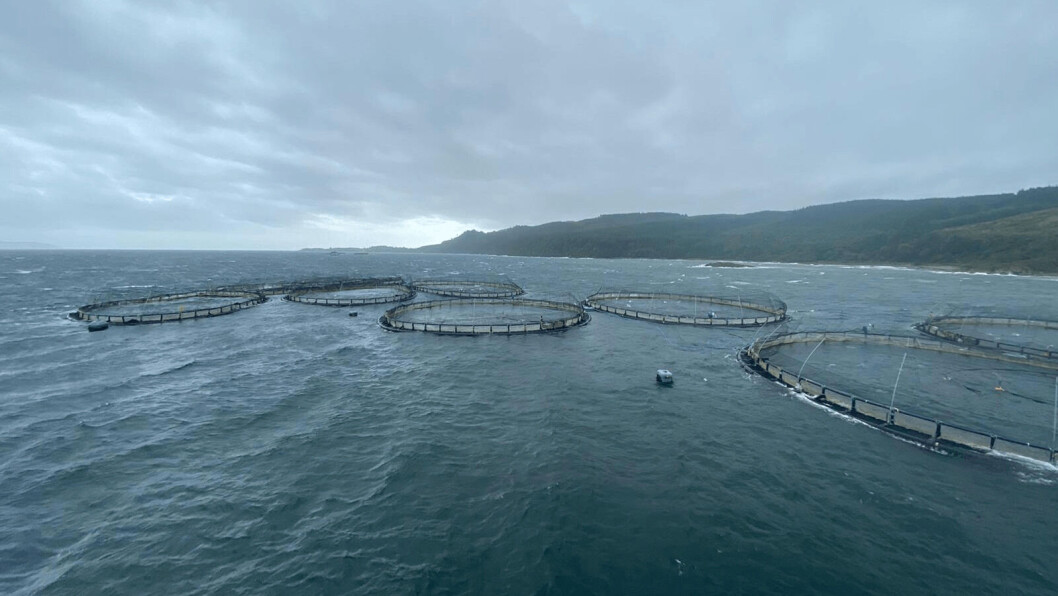 A quarter to forget for Mowi Scotland
Mowi Scotland's operating profit dropped by nearly 80% in the third quarter of this year due to low prices caused by Covid-19, lower harvest volumes and increased costs resulting from challenging biology, the company said in its third-quarter report today.
During the period the fish farmer had to contend with an algal bloom which affected several farms in the Argyll region and a storm in which 48,000 salmon escaped and others died in nets when Mowi's Carradale North farm broke free of its moorings.
Mowi's costs also rose due to instances of cardiomyopathy syndrome (CMS), pancreas disease (PD) and treating fish for sea lice.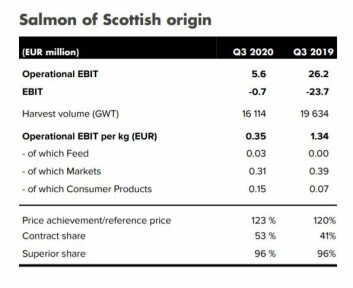 Early harvest
The Scottish operation still made operational EBIT of €5.6 million, but this was down from €26.2m in the same period last year.
Operational EBIT per kg was €0.35 (Q3 2019: 1.34) on harvest volumes of 16,114 gutted weight tonnes (19,634 gwt). Volumes were negatively impacted by challenging biology and early harvest.
The overall price achieved was 23% above the reference price in the quarter (20% above). Contribution from contracts relative to the reference price was positive in the third quarter of both 2020 and 2019. The contract share was 53% in the quarter compared with 41% in the third quarter of 2019. Price achievement was negatively impacted by the size profile.
"While the biological situation in Scotland is still challenging, mainly related to CMS, it is positive to note that PD levels are declining on increased vaccination. Sea lice levels are also lower than in 2019. Thus, we currently expect cost improvements in the fourth quarter," said Mowi in its report.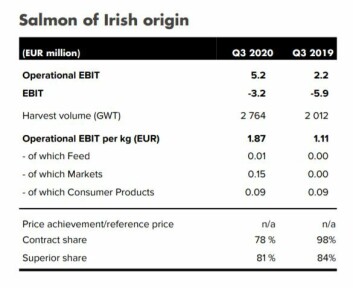 Higher volumes
There were better results from Mowi's smaller-scale operations in Ireland, which grow organic salmon, and the Faroe Islands, both now under the control of Mowi Scotland's chief operating officer, Ben Hadfield.
Mowi Ireland made operational EBIT of €5.2m (€2.2m) on a harvest volume of 2,764 gwt. Operational EBIT per kilo was €1.87, the highest in Mowi's operations worldwide.
"Although prices were reduced from the third quarter of 2019, higher harvest volumes and significantly lower cost increased earnings in our Irish operations," stated Mowi.
Results for Mowi Faroes were not as good as in Q3 2019, but still better per kilo than any other made region except Ireland. Operational EBIT was €2.3m (€2.8m) on a harvest volume of 1,844 gwt (2,013 gwt). Operational EBIT per kilo was €1.27 (€1.42).
Norway, Canada and Chile
In Norway, Mowi made operational EBIT of €66.6m (€103.8m) on record Q3 harvest volumes amounting to 76,453 tonnes (63,407 gwt). Operational EBIT amounted to €0.87 (€1.64).
In Canada Mowi made an operating loss of €6.8 million (€-0.2m), due to lower prices caused by Covid-19 and challenging biology, particularly in Canada East.
Harvest volume was 12,054 gwt (15,786 gwt) nearly all from Canada West, which increased its harvest volume by 1,035 gwt. Only 90 tonnes were harvested in Canada East following a prolonged period of challenging environmental conditions including algal blooms.
In Chile, Mowi made operational EBIT of €9.2m (€18.7m) on an increased harvest of 16,544 gwt (14,137 gwt). Operational EBIT per kg was €0.56 (€1.32).
"Costs and volumes improved from the comparable quarter on good biology. However, earnings were reduced due to significantly lower prices as a result of the Covid-19 situation," said Mowi.