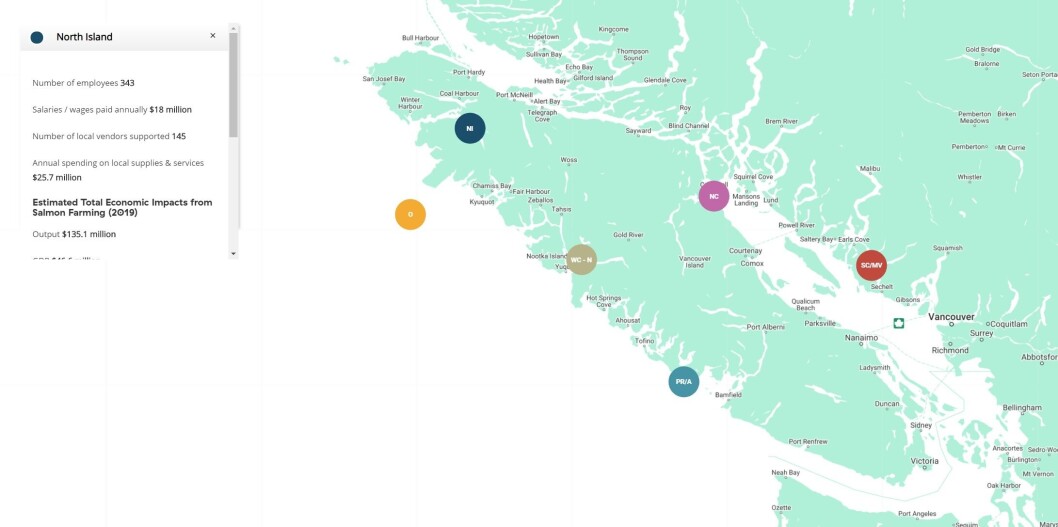 BC salmon farmers put facts at the public's fingertips
The British Columbia Salmon Farmers' Association (BCSFA) has launched an online tool that provides easy to access information on the environmental, economic, and social performance of the industry.
The interactive Performance Dashboard addresses 11 indicators in measuring the progress of the salmon farming industry in western Canada and on a global basis. Topics include detailed metrics on antibiotic use, escapes, sea lice counts, feed conversion ratio, carbon footprint, regional economic impacts, landed value, and annual production, donations, and certifications.
"BC salmon farmers value transparency and operating in a shared marine environment demands that," said BCSFA executive director John Paul Fraser. "This platform allows us to tell the important story of our performance and progress in an easily accessible and digital format."
Easier access
The BCSFA said the Performance Dashboard brings five years of reporting through a printed Sustainability Progress Report online. Much of the data was already available but difficult to access in various locations and formats.
It is works in the same way as the BCSFA's Deeper Dive online tool launched last week. In both tools, users can click on a topic of interest and access detailed data and context. Future data and more indicators will be added on an annual basis.
Dashboard features include an interactive map which shows all the sites in the six different areas where salmon farming is carried out – North Island,Northern Central, Other, Pacific Rim/Alberni, Sunshine Coast/Metro Van and West Coast – North Island.
Changing the narrative
Clicking on the name of one of the areas opens up a panel revealing the number of people employed by the industry in that area, salaries / wages paid annually, the number of local vendors supported, the annual spending on local supplies and services and a variety of economic impact metrics.
"The Performance Dashboard and Deeper Dive work hand-in-hand to provide much needed information in the public understanding of our industry," says Fraser.
"We are driven to change the narrative through a discussion based in science and facts and these are important tools in helping us advance the conversation."