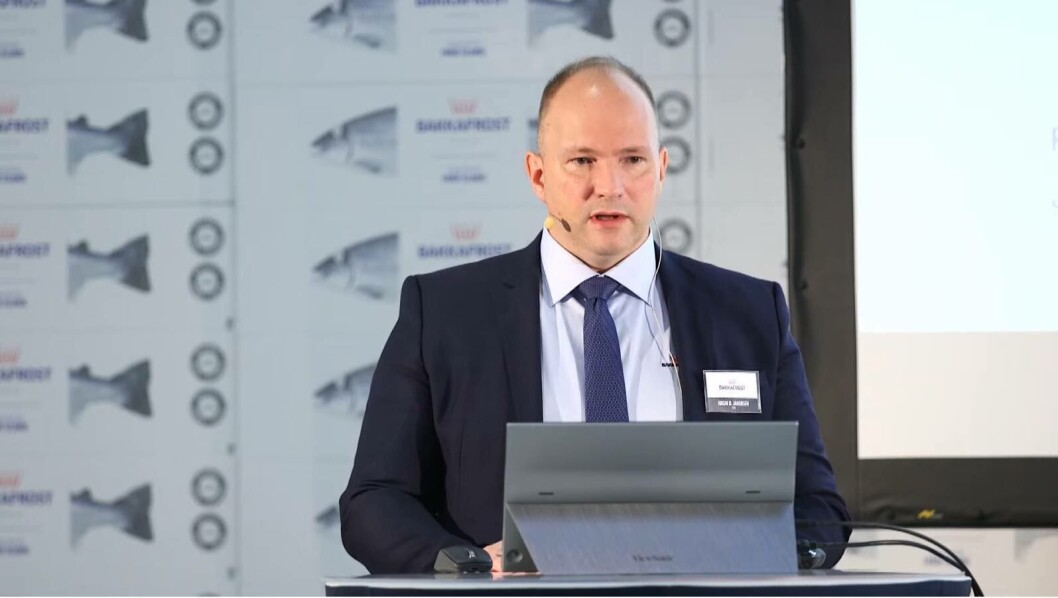 Bakkafrost speeds up huge investment in Scotland
Faroese salmon farmer Bakkafrost is accelerating its investment in the Scottish Salmon Company (SSC) as part of its effort to turn the operation around.
SSC is Scotland's second-biggest salmon producer by volume but has been hampered by low harvest weights and high costs caused by biological issues.
Bakkafrost today said that it was front-loading capital spending in its DKK 6.2 billion (£714.3m) investment plan between 2022 and 2026 in order to speed up the production of bigger smolts, which it sees as essential if SSC is to replicate the financial and biological performance of Bakkafrost's operation in the Faroes.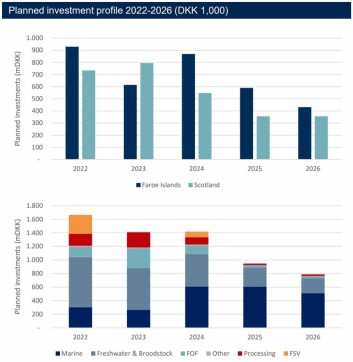 Applecross extended
Bakkafrost has been rebuilding SSC's Applecross hatchery into a higher-capacity recirculating aquaculture system and has now decided to increase that capacity further.
And second RAS hatchery will also be prioritised, and a third is in the pipeline. SSC will be able to produce more than 18 million 500-gram smolts a year by 2026.
Speaking at a Capital Markets Day for institutional investors, Bakkafrost chief financial officer Høgni Jakobsen said the company would invest around DKK 2 billion (£229 million) over the next two years.
"What we mainly are doing is putting full effort behind building the hatchery capacity in Scotland because that is what really drives the transformation. We need to get those investments done as soon as possible. We are in the process of expanding the Applecross hatchery – we are making it bigger than we originally planned – and then there will be the next hatchery.
"Those [hatcheries] are our main focus for the next couple of years."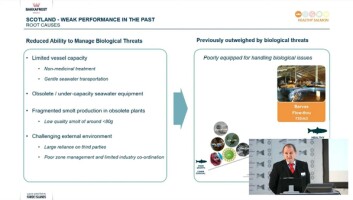 Weaknesses laid bare
SSC managing director Ian Laister told the finance professionals that the Scottish company had had some good years, benefited by good environmental conditions and good market conditions, but that the indirect impact of Covid "laid bare the weaknesses of our value chain".
Underinvestment in the years before SSC was bought by Bakkafrost in 2019 had left the company with 30-year-old hatchery technology and limited vessel capacity.
"The reality of our operation is the production of relatively poor quality small smolt and insufficient resources in the marine environment," said Laister.
Improvements
However, multiple improvements had already been made elsewhere. These included introducing feed from Bakkafrost's Havsbrún feed subsidiary, an enhanced cleaner fish programme, remote feeding, improved aeration at all at-risk sites and oxygenation as part of crowding for treatments.
"That has started to have a positive impact on some of our operational KPIs (key performance indicators)," said Laister, who added that the arrival of a freshwater treatment vessel last year made a big impact.
"Where we have a situation where there is increasing mortality, impact on appetite, etc, we have seen by multiple freshwater interventions that we can get an almost immediate increase in appetite by up to 14% and a reduction in mortality by 68%. So, freshwater resources are fundamental, and they are proving to be extremely beneficial in our operation."
Another treatment vessel, the M/S Bakkanes, is undergoing final fit-out and commissioning and is due to set sail for Scotland "within days" and will be permanently based there, said Laister.
70% mortality reduction
Laister said health and survivability of salmon would be transformed by the use of large smolt, which would cut the time spent in the sea from 22 months to 12-13 months.
"The reduction in mortality is as high as 70%, which then also fundamentally changes our KPIs and our cost performance. It's the foundation of our moving forward."
Bakkafrost chief executive Regin Jacobsen said: "We see a very dedicated staff in Scotland, they are highly experienced. The biggest issue we see is that there [has been] a huge lack of investment in the operation.
"We need to make sure that the resources are there and that is what we are doing now. We have a programme for comprehensive improvement in Scotland to make sure that we can utilise the resource and the capacity that we see."
Replicating Faroes success
He added: "When it comes to investments on building high-class operations with new technology, we are confident that we can replicate the success with investments in technology [that Bakkafrost has had in the Faroes].
"Some effects will be seen earlier than others, like for example bext practice, natural feed, etc, where there are others that will have more gradual improvements, like for example genetics programme. We expect to see some gradual improvements from 2024 with larger smolts."