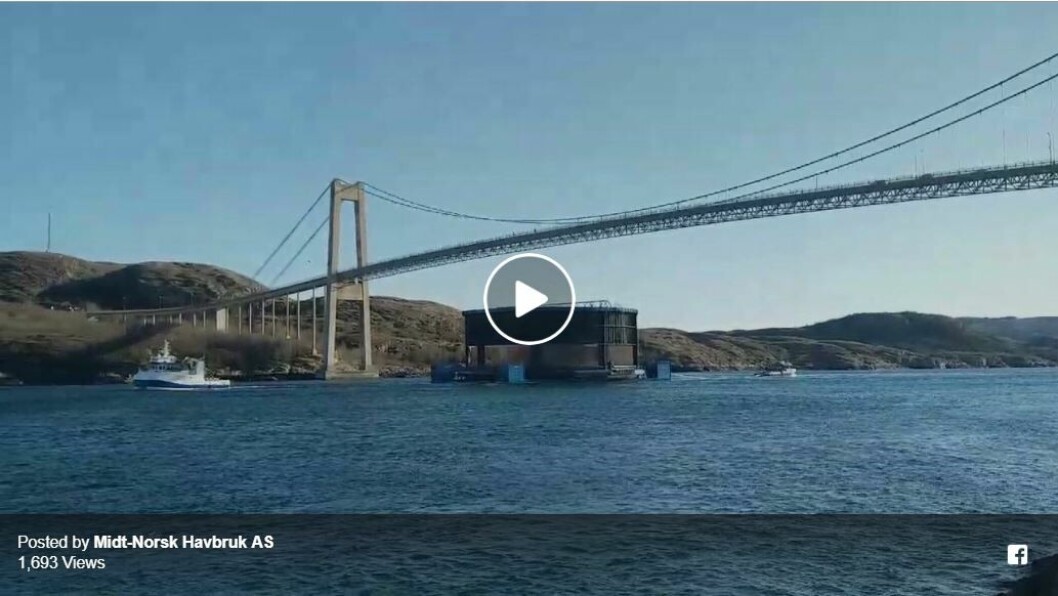 Second 'Aquatraz' soon ready for 200,000 inmates
The second 'Aquatraz' semi-closed cages has arrived at the Kvitneset site run by Norwegian salmon farmer Midt-Norsk Havbruk for testing.
Once tests are completed it will be moved to another site, Eiterfjord, where it will be stocked with 200,000 smolts.
Project manager Steingrim Holm told Fish Farming Expert's sister site, Kyst.no: "We will put fish into the cage at the end of April, according to the plan this will be in week 17."
The company will put out smolts which will be grown to around 5kg within 12-18 months before being harvested.
Solid walls
The top eight metres of the Aquatraz comprise solid metal walls, helping prevent sea lice, which are largely found in the upper water layer, from entering the facility.
The open panels at the lower level allow natural water flow in the event that the cage's mechanical water supply should fail.
The cage is 18 metres deep measured from the water surface to the sinker tube, or 34 metres if measured right down to the tip.
Water is pumped from depth into the cage, and is then circulated by a separate pump, ensuring an optimal environment for the fish in water that is rich in oxygen and maintains a more even temperature.
Net pen
The fish are contained in a net pen inside the steel wall. The net can be lifted out of the water for maintenance and are disinfected through drying or freezing in the winter.
The cage is the second of four and is identical to the first version. All four cages are built by Fosen Yard.
Aqutraz No.3 and No.4, which will be updated versions of the first two, will also be put in place this year.