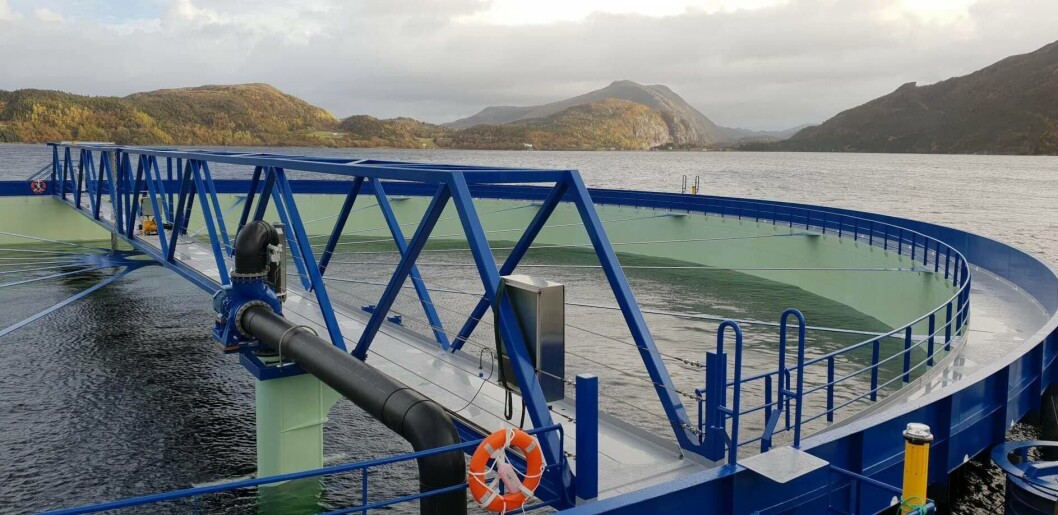 'Aquatraz' will receive first inmates next week
Norwegian salmon farmer Midt-Norsk Havbruk (MNH) expects to put the first fish in its "Aquatraz" semi-closed concept cage next week.
The larger-than-average cage, which can accommodate 200,000 fish, is now in place at MNH's Eiterfjord site and final tests are being carried out before fish go in.
"We are doing some installations and tests now, including providing power. We have planned to put fish in Aquatraz on Tuesday, October 16, next week, if everything goes according to plan," said Steingrim Holm, the concept's project manager and technical director.
The cage is the first of four that will be moored at the site alongside conventional cages. MNH has been granted four development permits – equivalent to a production of 3,120 tonnes – for the pilot project.
The Aquatraz is a semi-closed steel cage developed by Seafarming Systems Ltd and built at Fosen Yard's shipyard at Kvithylla in Trøndelag. The second and third cages are now under construction.
The cage's designers say the Aquatraz, which can be raised or lowered by operators, is designed to improve animal welfare and to prevent salmon from escaping.
According to Seafarming Systems Ltd, escapes are usually blamed on human error or objects tearing holes in the net, and Aquatraz's rigid steel structure is capable of withstanding more than current netpens.
The design automates many operations, which reduces the risk of human error and also reduces the risk of escape significantly, it is claimed.
Seafarming Systems Ltd says the Aquatraz will improve fish health. Fresh water from the depths is pumped into the netpen, and is then circulated, ensuring an optimal environment for the fish in water that is rich in oxygen that maintains a more even temperature.
The cage is sealed in the top eight metres and open at the bottom, helping prevent lice, which are largely found in the upper water masses, from entering the facility. The open panels in the side allow natural water flow in the event that the mechanical water supply should fail. The netpens can be lifted out of the water for maintenance, and are disinfected through drying or freezing in the winter.