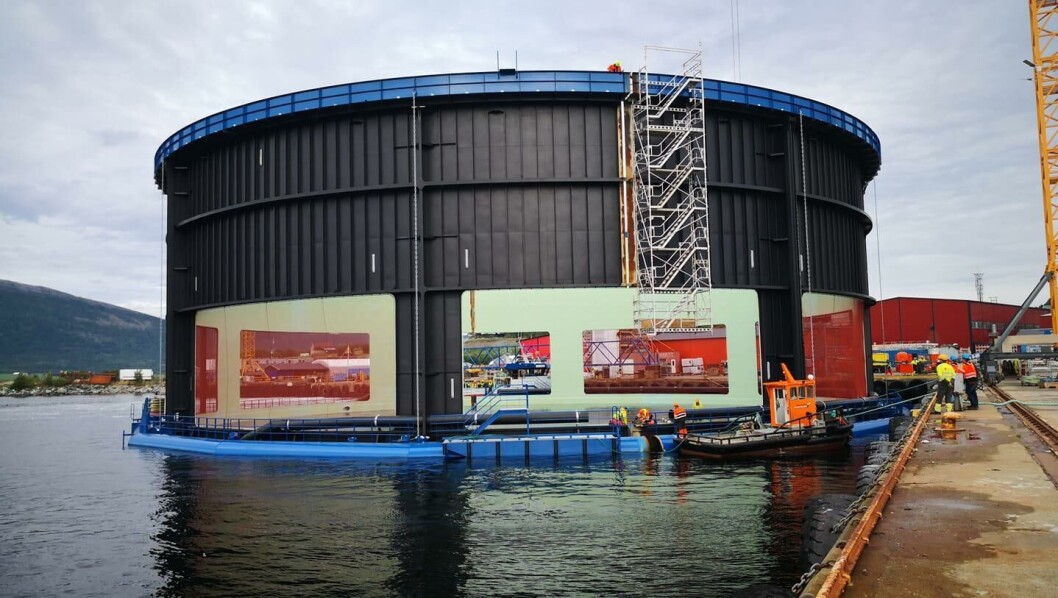 Aquatraz undergoes final tests before deployment
The first Aquatraz semi-closed cage built for Norwegian salmon farmer Mid-Norsk Havbruk (MNH) is undergoing final tests and will be delivered to a farm site in the next few days.
The cage, which can hold 200,000 fish, will be stocked before the end of the month.
In total, four pilot cages will be built by Fosen Yard AS at Kvithylla in Trøndelag in central Norway. Project manager Steingrim Holm, 50, told Fish Farming Expert's sister site, Kyst.no, that delivery of the first Aquatraz cage to MNH's Eiterfjord site in Nærøy municipality is planned for this Friday.
"We are testing at the yard now, so we are in the final phase," he said.
"What we are going to do now is to test the lift system, which is the most critical test. It's incredibly exciting and it will be fun to get it running."
The steel-sided cage is designed to lift out of the water, so it be easily towed.
Midt-Norsk Havbruk Produksjon AS was awarded four of the eight development permits it wanted for the Aquatraz concept, which has been developed by Seafarming Systems AS. The permits indicate a production of 3,120 tonnes.
The second cage will be delivered in the fourth quarter of 2018, with cages three and four delivered next year.
The cages are designed to fit a conventional Norwegian mooring grid.
See exclusive drone footage of the construction below. Video recording: Fosen Yard. Video made by Kyst.no.