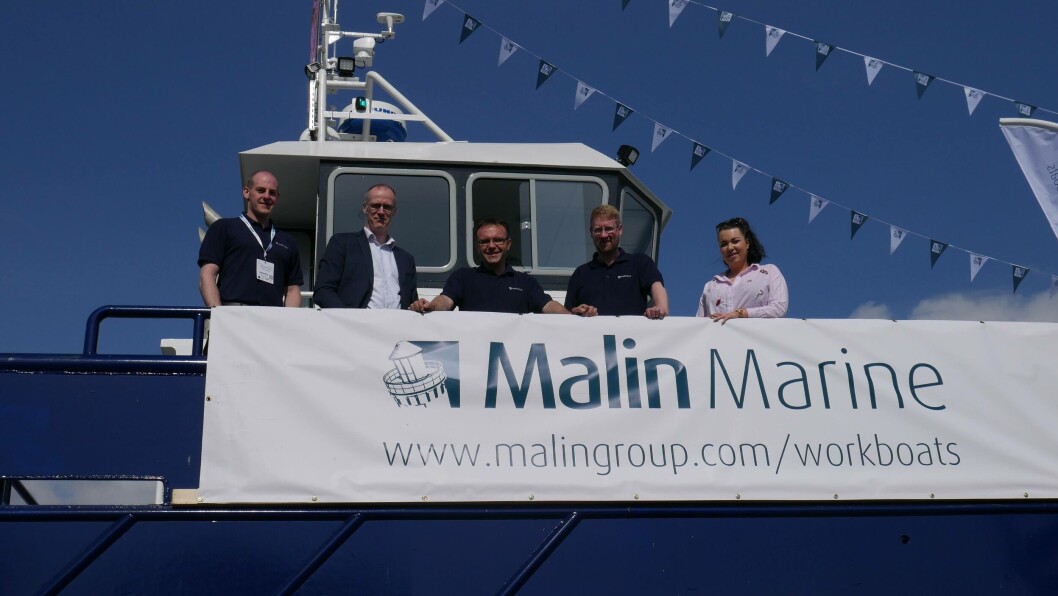 Malin makes a splash with new Clyde-built workboat
A new Scottish workboat builder has announced its entry into the aquaculture market in a high-profile way . . . by transporting its first vessel more than 150 miles from Renfrew to Aviemore to show it off at last week's Aquaculture UK 2018 event.
The figures
General design: Heavy duty; road transportable.
Typical applications: Harbour & coastal waters - general purpose workboat / mooring operations / aquaculture
Certification: Workboat Code CAT 2 or 3
Bollard pull: Approx. 5 Te
Speed: 8 knots
Length O.A: 16.20 m
Length B.P.P: 15.70 m
Beam moulded: 5.50 m
Depth moulded: 2.00 m
Operating draught: 1.20 m
Capacities
Deck loading: 20 Te max / 5 Te/m2 (strength)
Main Engine / Gearbox: 2 x Volvo Penta D7C TA (199 Hp @1900 RPM); 2 x ZF280-1 / 2.47:1 / PTO), keel cooled
Aux Hydraulic / Genset: Perkins 1104A.44TG2, 73 kw, keel cooled; Tandem LP/HP load sensing Mech Alte 20 kva generator
Propulsion: Twin Screw FP / Duplex SS shaft, R&D couplings, cutless bearings
Deck Crane: 1 x HS Marine AK20 HE4 hydraulic knuckle boom:
- 1 Te @ 9m Radius
- WiFi Control & winch (optional)
Deck Winches: 1x 4Te hydraulic braked capstan, towing winch to suit client requirements (optional)
Accommodation: Wheelhouse – Heated wheelhouse with 360deg visibility, seating, table and small galley area; main deck WC with hot & cold water
Navigation / Safety: Radar, chart plotter, GPS, DSC VHF, depth sounder, compass, SOLAS. EPIRB / SART
Malin Group brought the 16.2-metre MSD 1655 multipurpose workboat north by road ahead of its launch in the Clyde next month.
The company believes the workboat, which will be supplied to a Shetland mussel farmer, is the first ship built in Renfrew since 1964.
Speaking at Aviemore, the group's offshore project director, Graham Tait, a naval architect, said there had been a lot of interest in the boat from people attending Aquaculture UK.
First foray
"Malin have not done any work in this industry, it is our first foray, so to bring the ship here has been quite good for us," said Tait.
He added that although the first boat was going to be used for mussel farming, it had been designed so it could also be used in fish farming and other industries. "As it is designed and built in-house, we can adjust it to what the client wants," said Tait, who comes from an aquaculture background in Shetland.
"My family still have a mussel farm but previous to that it was a salmon farm so my background before being a naval architect is feeding the fish and suchlike on the farm.
"That has helped [in the design] because I know what the problems are."
Tait continued: "The [aquaculture] industry is quite buoyant, there is a lot of investment. It is quite incumbent on the industry to procure in Scotland but we need to be able to deliver a vessel like this [if it is to do so].
"It has been quite a challenge getting that skill-set back together again. We now have everybody we need, and we have a supply chain. We think there is a big future for vessels like this, in aquaculture but also in other industries."