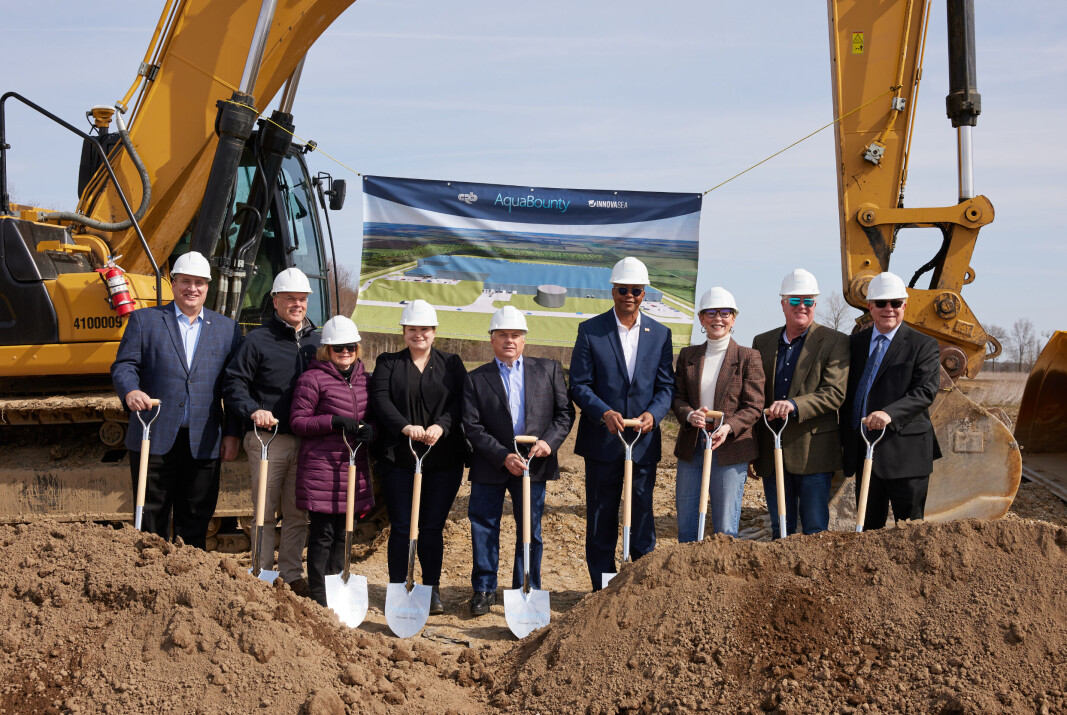 New farm will cost more but also have more fish, says AquaBounty
Transgenic-salmon pioneer raises financing target for Ohio project as revenue climbs 44%
US land-based salmon farmer AquaBounty has substantially increased the amount of money it plans to raise to fund its new recirculating aquaculture system (RAS) facility in Pioneer, Ohio.
Rising costs led AquaBounty to review the price tag for the farm, which had been expected to cost $320 m. The company hasn't put a figure on what it expects the new cost to be, but has received a bond issuer's approval to increase financing for the construction of the farm up to $425 m.
AquaBounty already runs a RAS facility in Indiana in which it produces Atlantic salmon with an inherited genetic modification that makes them grow more quickly. The company generated $653,000 in product revenue in the third quarter of this year, an increase of 44% compared to $455,000 in Q3, 2021.
Nine-month revenue up 225%
In the nine-month period ended September 30, 2022, product revenue totalled $2.7 m, up by 255% compared to $800,000 in the same period last year.
Net loss in the third quarter totalled $5.4 m, less than the $6.9 m loss for Q3 2021. In the nine-month period ended September 30, 2022, net loss totalled $16.1 m ($16.3 m).
AquaBounty said construction activities for the Pioneer farm site are continuing, supported by the recent receipt of a new Withdrawal and Consumptive Use Permit that enables expanded water access to support future farming operations.
Strong demand
"Throughout the third quarter, AquaBounty continued to see strong demand for our salmon from seafood distributor customers," said chief executive Sylvia Wulf in a press release.
"We once again sold everything we could produce, which combined with improvements in our yields, drove a 44% year-over-year increase in third quarter revenues to $653,000.
"Additionally, our production operations are seeing the benefit of the salmon biology expertise that comes from the scientists and technicians throughout our organisation. Their understanding of the interaction between salmon biology and the RAS environment in which our fish grow has enabled us to begin to increase our production efficiency and reduce mortality risk at our Indiana farm, which is realised through increased harvest yields.
"These learnings are reflected in our harvest success to-date and have been critical to identifying process and design improvements for our future farm in Pioneer, Ohio."
Bond financing
Wulf said AquaBounty had determined that the current design of the farm will require more than $320 m to construct. She added that the farm will also be able to support a production level above the 10,000 metric tonnes originally envisaged, although didn't say how much more.
"With the progress made on the farm design and updated cost estimates, we are again moving forward with the planned bond financing, and we have resumed our efforts with Wells Fargo Corporate and Investment Banking," said Wulf.
"In order to mitigate the increase in the construction cost estimate and the impact of rising interest rates, we have received approval from the Board of the Toledo-Lucas County Port Authority (which provides business financing to local development projects) to increase the amount of the bond offering up to $425m. We are now moving forward with an updated timeline reflecting the larger bond offering, with the expectation of closing the bond financing in the first quarter of 2023."
'Optimistic'
Wulf said that with ongoing market validation, the scale-up of harvests and sales at AquaBounty's Indiana farm, and construction at the Ohio farm all well under way, "we are very optimistic for our shared future and progress in the months ahead".
In the Property, Plant and Equipment section of its financial statement covering Q3 2022 and the first nine months of the year, AquaBounty lists $429,000 for construction related to the Indiana farm site, and $57.6 m related to design work and construction activities for the Ohio farm. An additional $1.8 m has been contractually committed for the Indiana farm and its Rollo Bay farm site on Prince Edward Island (PEI), Canada, and $21.3 m has been committed for the construction of the Ohio farm.
AquaBounty made $594,075 from sales of its GE (genetically engineered) salmon in Q3, and a further $48,570 from sales of non-GE salmon fry produced at its hatchery on PEI.