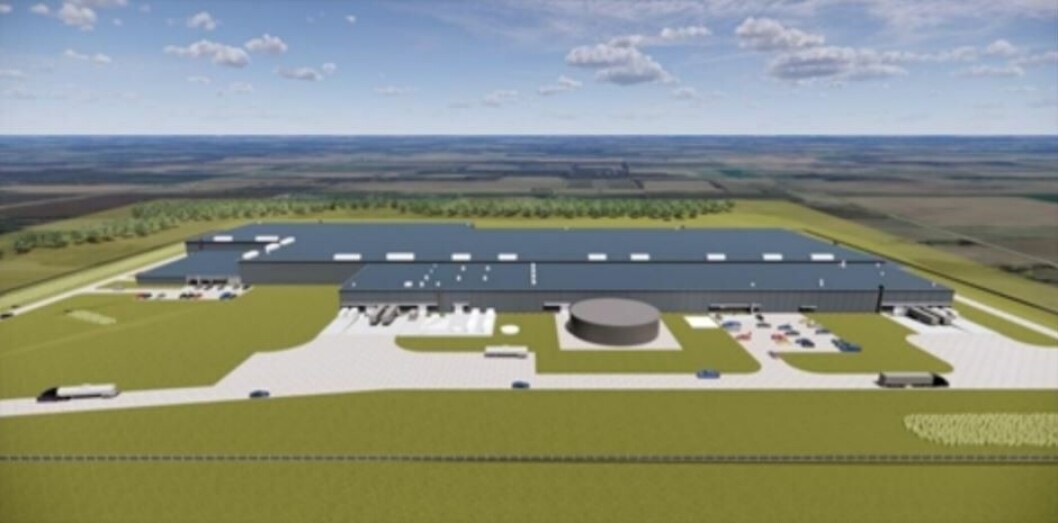 AquaBounty farm 'will bring in $82m a year'
Transgenic-salmon producer AquaBounty's planned 10,000-tonne farm in Ohio is expected to generate revenue of $82 million (£61m) a year, the company said in an investor presentation yesterday.
Massachusetts-based AquaBounty envisages an operating margin of 15% and EBITDA (earnings before interest, tax, depreciation, and amortisation) of $24m. EBITDA return on invested equity is forecast at 16%.
Construction of the 479,000 square foot recirculating aquaculture system (RAS) facility in the village of Pioneer is due to begin before the end of the year. The total cost of the facility is expected to be $316m, including a $30m contingency fund.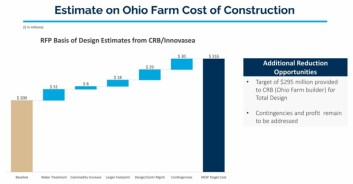 $300m in bonds
AquaBounty plans to finance the farm by selling bonds. It said the Toledo-Lucas Port Authority board had approved the issuance of up to $300m in bonds to pay for the build. Wells Fargo Corporate and Investment Banking is lined up to underwrite and market the bond placement, expected to be complete in the first quarter of next year.
AquaBounty farms its faster-growing AquAdvantage Atlantic salmon (AAS) at RAS facilities in Albany, Indiana and at Rollo Bay, Prince Edward Island (PEI), Canada. But Albany has a capacity of only 1,200 tonnes a year, and the PEI farm just 250 tonnes, so the Ohio RAS will be the company's first commercial-scale facility.
The company has chalked up multi-million-dollar losses for years, partly due to long regulatory delays and more recently because of the costs associated with commercialisation. But it has recently been able to bring in modest income from the sale of fish.
In the investor presentation, AquaBounty points out that all AAS have been sold, with demand continuing to build.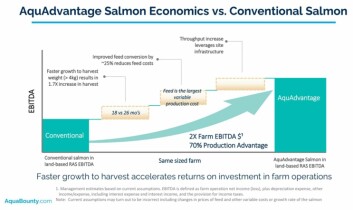 70% production increase
The company's fish are descended from salmon that were genetically modified 30 years ago to make them grow more quickly. The modifications – passed on through the male line – enable AAS to reach a harvest size of more than 4kg in 18 months, compared to 26 months for a conventional farmed Atlantic salmon. This results in a 70% increase in harvest.
AquaBounty says improved feed conversion reduces feed costs by around 25% and that the increased throughput of fish means RAS farmers get better returns from the substantial investment in facilities. If you factor in reduced requirement for labour and oxygen because of the shorter growing period, says AquaBounty, using GE salmon delivers twice the EBITDA of conventional salmon.
The Ohio facility is the first of four of five that AquaBounty plans in North America. It is also looking at joint ventures abroad.