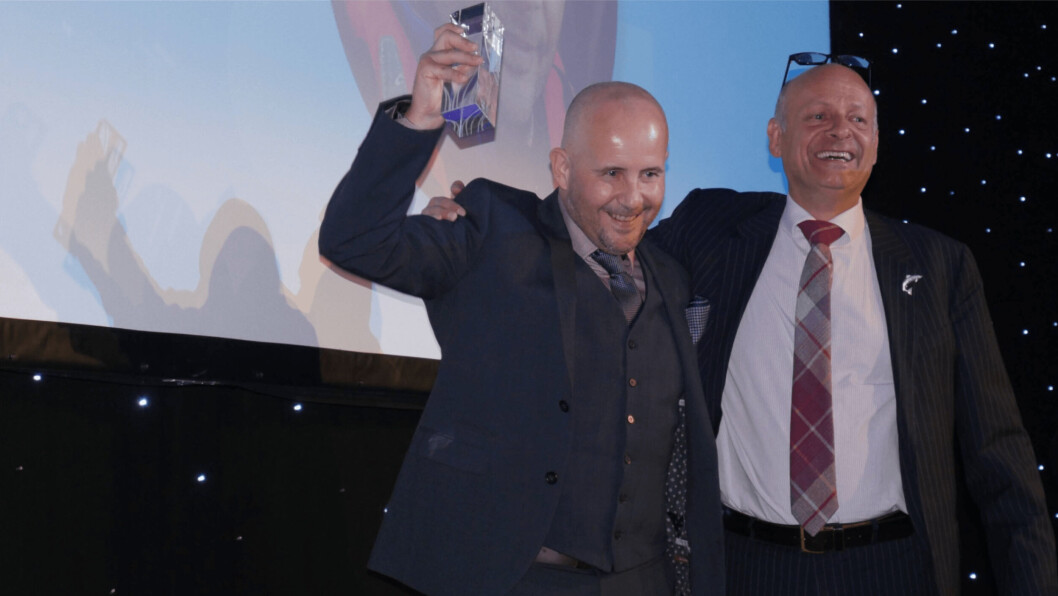 Triple triumph for Scottish Sea Farms at 2019 Awards
Scottish Sea Farms scored a triple triumph at last night's Aquaculture Awards 2019, which also featured overseas winners for the first time.
The salmon farmer began the evening at Dynamic Earth, Edinburgh by sharing the accolade for Applied Research Breakthrough. The award went to SSF, fellow salmon farmer Mowi, feed manufacturer BioMar, the University of Stirling and the Scottish Aquaculture Innovation Centre (SAIC) for a collaborative project to successfully close the breeding cycle for ballan wrasse – an important cleaner fish used for sea lice control in salmon farms – for the first time.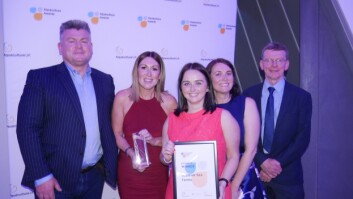 SSF's human resources team then picked up the Diversity award for encouraging increasing numbers of women into senior roles in the company.
People's Choice
Finally, SSF's Orkney production manager, Richard Darbyshire, was awarded the People's Choice award for transforming the performance of the sites under his control since taking charge in 2008.
The award, for a person within aquaculture whose attitude and achievements have been particularly inspirational, was the only one chosen by public vote, with more than 500 votes being cast in the category.
Darbyshire said he had not expected to win the award and admitted "the pressure was on" after SSF had claimed the two earlier accolades.
"I work for a big company and that probably helped," said the manager. "When your name comes up and you get the award it is really special."
He added: "What we have achieved in Orkney is quite well known. Orkney produces really good quality fish and demand is going up year after year. We have still not done a treatment for leps (lice) in Orkney in 11 years."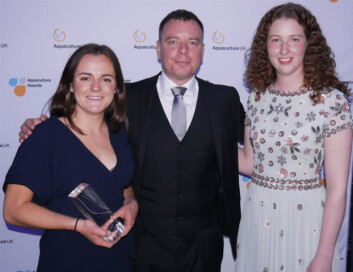 Waste-to-fuel technology
Marks & Spencer won the Animal Welfare prize for its Welfare Outcome Measure Programme which helps to improve the welfare of all farmed salmon, seabass, sea bream, shrimp and trout sourced by the retailer.
Norwegian company Bioretur, which has come up with a pioneering method of converting fish waste into valuable fuel and fertiliser, won the Sustainability award.
Another Norwegian-based company, aquaculture accelerator Hatch, was awarded the prize for International Impact. Hatch has helped commercialise a number of cutting-edge aquaculture start-ups.
The award for the most promising new entrant was awarded to both Mowi farm technician Clara McGhee and fish farm software developer Manolin, which itself benefited from the first Hatch accelerator programme.
McGhee works on one of Mowi's most challenging sites, Muck, and has helped to inspire her colleagues on site and in the wider industry through a blog published on an aquaculture website.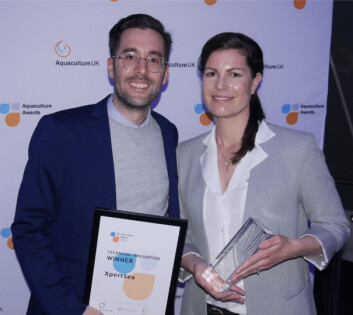 Data-driven decisions
Manolin has developed software to help farmers optimise treatments and improve their fish health, and the Bergen-based start-up's product has been widely adopted in Norway.
The prize for Technical Innovation also went to an overseas company, XpertSea. The Quebec-based company's Growth Platform automates data collection so that shrimp farmers can make informed data-driven decisions.
Susan Tinch, who organised the Awards for 5m, the publishing and events arm of aquaculture genetics, health and technology firm Benchmark, was delighted with the success of the ceremony, the first since the decision was taken to open up the competition to foreign entries and to hold it every year instead of every two years.
"To go from zero to where we are and to have the interest that we've had from around the globe is really encouraging," said Tinch, who confirmed that the competition would remain international.
"The same issues are impacting aquaculture here, in Norway or in Chile."