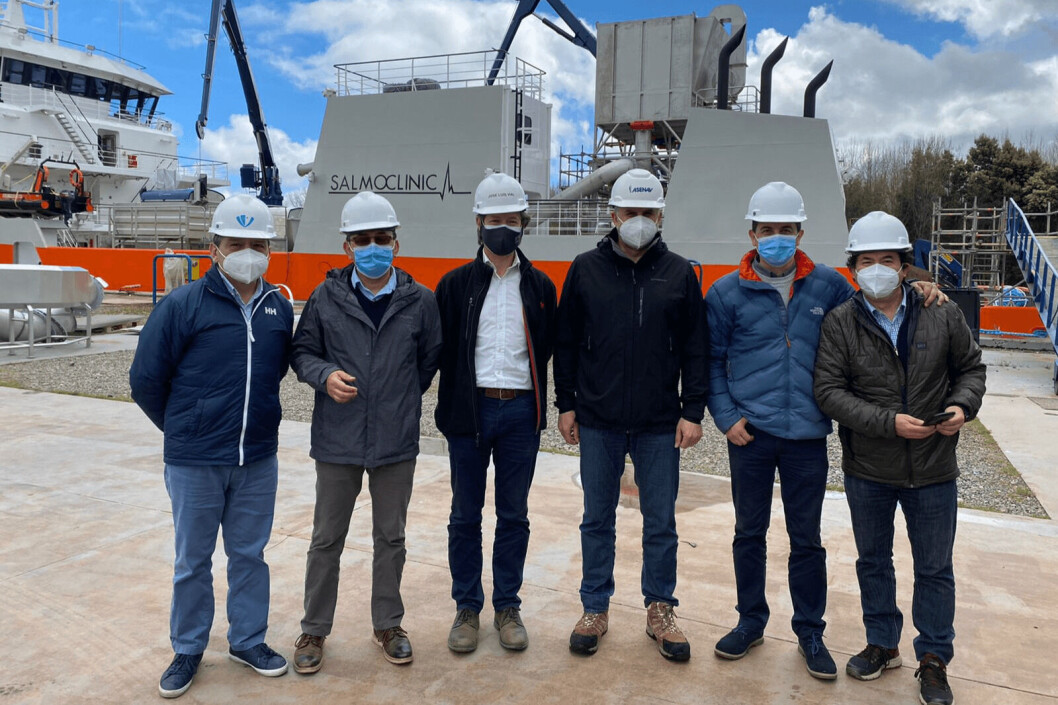 'First Chile, then the world': high hopes for novel lice treatment
A novel and more environmentally friendly method of treating salmon for lice and amoebic gill disease will debut in Chile before the end of the year, its developer has said.
SalmoClinic, founded by Patagonia Wellboat director Hans Kossmann, will use a tank with a large helix to provide a continuous swim-through bath treatment for salmon pumped aboard its new tailor-made treatment vessel, the 62-metre Owurkan, built by the Asenav shipyard in Valvidia, Chile.
The helix tank has been manufactured by Norwegian company Stranda Prolog, which specialises in equipment for handling live fish and stress control. It is based on Stranda Prolog's pilot HeliXir System and comes as a complete package with required fish pumping, recirculation, water filtration and CO2 degassing.
Less water, less medicine
Because the fish move through the HeliXir treatment bath in a controlled manner, the amount of medicine needed is reduced and therefore so is the amount of process water to be handled, says Kristiansund-based Stranda Prolog.
A HeliXir can treat 200,000 fish with an average weight of 3.5kg with only 700m³ process water. According to Stranda Prolog, that is a 96% reduction compared to a comparable treatment in a cage and 90% compared to treatment in a wellboat.
The treatment water is homogeneous, there are no "hot spots" where the concentration of the medicine is higher or lower than the target. All fish get the same treatment. Fewer parasites survive the method which prevents reduced sensitivity to the medication used. The process water goes through a filter removing most of the lice eggs when the system is being used to remove lice.
Panama Canal
Stranda Prolog's tank is on a cargo ship that is currently passing through the Panama Canal and will dock in Corral Bay in the mouth of the Valdivia River in southern Chile in mid-October. The tank, weighing 65 tonnes and with a capacity of 300m³, will be unloaded directly from the freighter on to the Owurkan.
A large reverse osmosis freshwater production plant that can produce 125m³ of fresh water per hour has been installed on the vessel to deliver the freshwater required for the sea lice treatment, and is awaiting commissioning.
Pesticide degradation
A novel pesticide degradation unit is also aboard the Owurkan. Kossmann said SalmoClinic was not yet able to disclose details of the technology, for which patents are pending, but was able to talk about its efficacy.
"Currently we can assure over 95% of degradation of cypermethrin and deltamethrin and close to 90% degradation of azamethiphos when used in a freshwater bath to treat sea lice. We are now working on the technology to degrade other therapeutic molecules of interest and approved for use in fish, such as chitin synthesis inhibitors and some antibiotics," he said.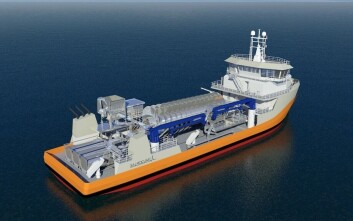 'At least five ships' needed
"We estimate that the benefits associated with the technology developed will translate into a demand for at least five ships for the Chilean market, of equal or greater capacity than Owurkan," said Kossmann.
"Chile is our first and main market, however, SalmoClinic is ready to enter the other salmon-producing countries in the coming years."
SalmoClinic also has its sights set on land-based facilities such as hatcheries.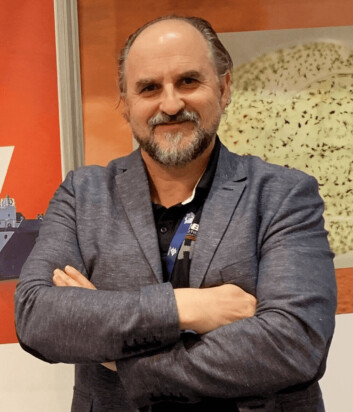 Adapted for land
Kossmann said: "The same concept that we install in the Owurkan ship can be adapted for treatment needs in fish farms on land, especially for RAS (recirculating aquaculture systems) that have difficulties with the control of diseases through antibiotics or other therapeutic compounds, because they can affect the populations of bacteria in biofilters.
"We hope to be able to propose to the industry our solution of bath treatments with degradation of therapeutics for fish farms (smolt facilities) by the end of next year."
Mounted on a truck
The solution is a "clinic" that can be mobile (on a truck) or stationary, and that allows controlled bathing of fish with effective medicines to control parasites or bacterial diseases. The residual water from the treatment bath is passed through a special system that filters and degrades "in situ" the medicine residue and thus avoids affecting the water course into which the on-land facility discharges its waste stream, explained Kossmann.
"Therapeutic baths can be applied in an environmentally friendly way for the control of bacterial diseases such as Flavobacteriosis or BKD (bacterial kidney disease) in fresh water, as well as for the control of fungi," said the SalmoClinic boss.
Protecting biofilters
"The system can be especially interesting for treatments to be carried out in RAS, since it is very risky to use antibiotic compounds directly in the culture tanks, either by bathing or through food, because these compounds can affect the bacteria that make up the biofilters. The system devised by SalmoClinic, which is in the process of being patented, prevents antibiotic or disinfectant compounds from coming into contact with said biofilters or with the receiving water course of the on-land farm."
SalmoClinic has also just been awarded state funding to develop a prototype of an immersion vaccine against SRS (salmonid rickettsial septicaemia), said Kossmann.
"It is intended to be applied as a 'booster' or 'reinforcement' in seawater by bathing in boats like the Owurkan, so that the immune response that the fish generated with the intraperitoneal vaccines applied prior to entering the sea can be recovered," explained Kossmann, who is a degree in marine biology and a post-graduate qualification in fish physiology and is also a former salmon farmer.