Quarterly results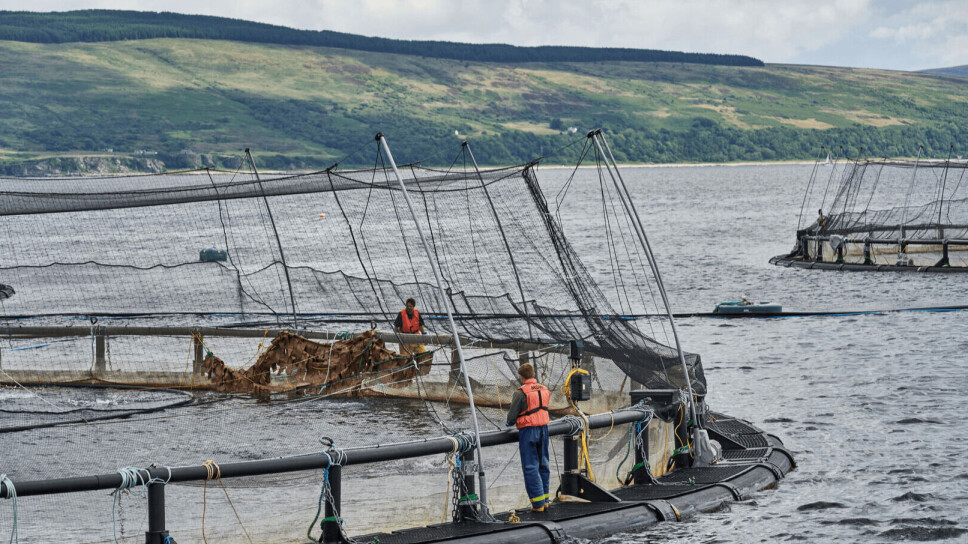 Mowi Scotland profits pegged back by contracts and health challenges
A high percentage of pre-sold fish prevented fish farmer taking full advantage of high spot prices
Mowi Scotland's harvest volume fell by 34% to 12,954 gutted weight tonnes in the second quarter of this year compared to the same period last year, and operating profit fell by €9.2 million to €20.7 m.
The company, which is Scotland's biggest salmon farmer, said low production on stocks based on externally sourced eggs, in addition to lower biomass going into the quarter compared with last year, had a negative impact on volumes.
The eggs were introduced in the absence of other options following the EU-imposed export ban on Norwegian eggs in 2019, and the last fish hatched from those ova have now been harvested.
Mortality costs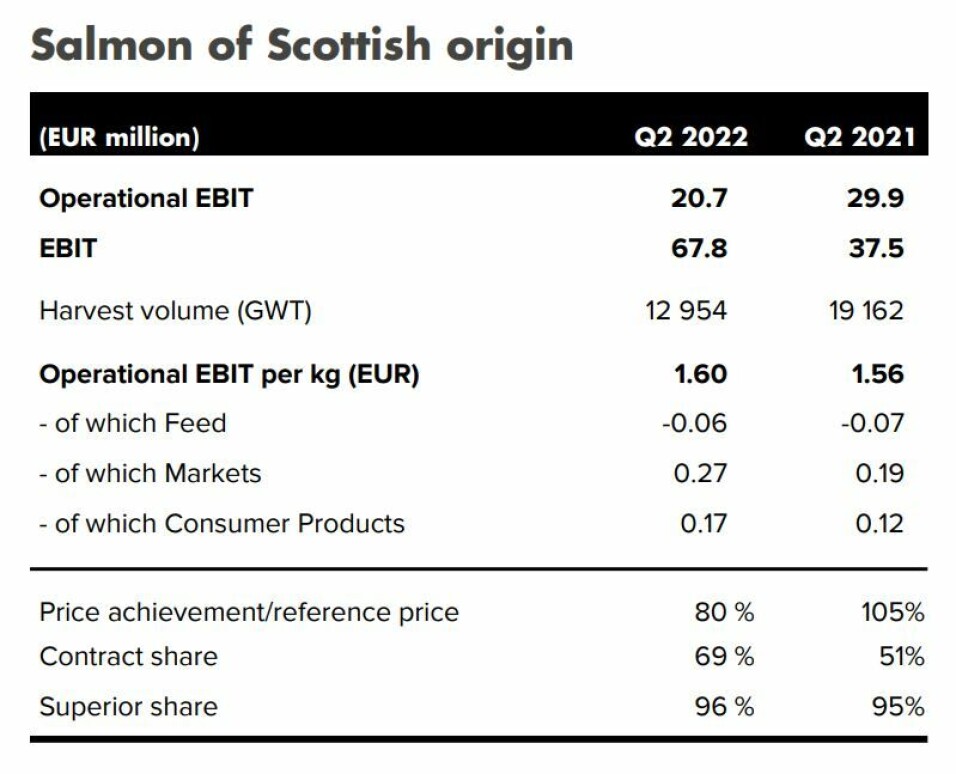 Biological problems also restricted profits during a quarter when the spot price for salmon reached record levels.
Incident based mortality losses in the quarter amounted to €2.8 m (Q2 2021: €1.5 m) mainly related to gill issues, treatment mortality and predators.
In addition to the issues related to stocks grown from externally sourced eggs, the biological situation has been negatively impacted by gill issues, including amoebic gill disease, algae, and jelly fish, Mowi said in its Q2 2022 report.
These issues have continued into the third quarter. Cardiomyopathy syndrome (CMS) also remains at a relatively high rate of detection.
Better in Q4
"Although somewhat later than originally planned, the stocks based on external eggs were harvested out in the third quarter," wrote Mowi.
"We expect improvements to materialise with increased harvest weights and better cost performance in the fourth quarter."
Despite the biological challenges, the proportion of harvested fish classed as superior reached 96%, a percentage point higher than in Q2 2021.
However, the relatively small harvest meant a greater proportion of fish had to go be used to meet pre-existing contracts at lower prices than those achieved on the spot market. This meant that Sainsbury's supplier Mowi's price achievement against the reference price for salmon fell from 105% in Q2 2021 to 80%.
Nonetheless, the operation's operational EBIT per kilo increased slightly to €1.60 (€1.56).
Ireland and Faroes
Mowi Ireland almost trebled operating profit to €9.2 m (€3.4 m) on an increased harvest of 3,294 gwt (1,850 gwt). Operational EBIT per kilo was €2.80 (€1.84).
As in Scotland, a high contract share of 65% limited the company's ability to take advantage of high spot prices.
By contrast, Mowi Faroes, which had no contract sales, more doubled operating profit to €10.4 m (€4.5 m), and operational EBIT per kilo jumped to a record high of €5.78 (€1.91).
The Faroes operation harvested 1,802 gwt in Q2, fewer fish than the 2,356 gwt harvested in the same period last year.
Recovery in Canada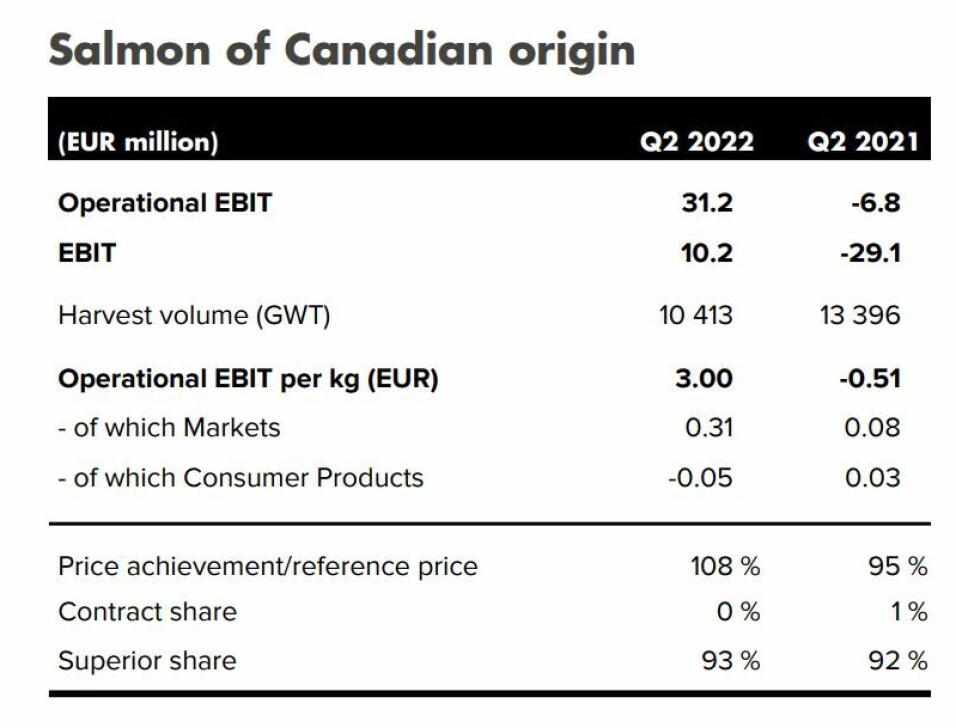 Mowi's operations in Canada showed the biggest turnaround, going from an operating loss of €6.8 m in Q2 2021 to an operating profit of €31.2 m, despite a lower harvest volume of 10,413 gwt (13,396 gwt). Nearly all of this – 9,921 gwt – was from Mowi Canada West in British Columbia. This was due to higher biomass going into the quarter in addition to accelerated harvesting related to fish health management.
"Operational EBIT for Canada West was all-time high at $38.3 m in the quarter, i.e. €3.87 per kg. Earnings improved significantly from €8.2 m in the comparable quarter on full spot exposure and prices at record-high levels, increased volumes and reduced cost. In Canada East, volumes were very low in the quarter," wrote Mowi.
In Chile, Mowi made an operating profit of €15.3 m (€14.9 m) on a slightly smaller harvest of 14,400 gwt (15,128 gwt). Operational EBIT per kilo was €1.07 (€0.98).
Mowi made a much-increased operating profit of €235.2 m (€93 m) in Norway on a harvest of 59,815 gwt (56,084 gwt). Operational EBIT per kilo more than doubled to €3.93 (€1.66).