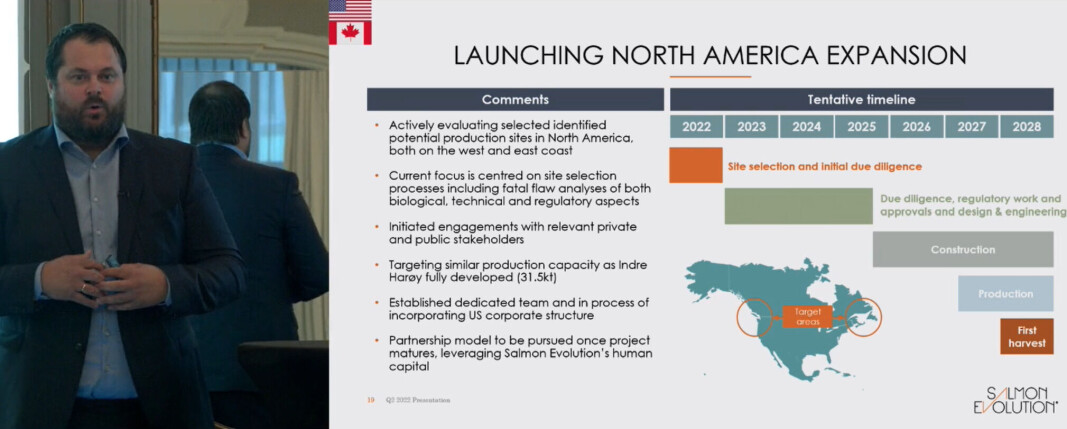 Salmon Evolution secures site options in America
The on-land fish farmer has made quick progress in search for 30,000-tonne-plus location
On-land fish farmer Salmon Evolution has secured options to some potential sites for a large facility on the west coast of North America, chief executive Håkon Andre Berg said today.
Salmon Evolution will shortly harvest fish from the first phase of an under-construction 31,500-tonnes-per-year capacity land-based farm in Norway and recently announced ambitions to build a similar-sized facility in North America.
The company has employed Seattle-based consultant Todd Deligan to lead the search for a site, which must be on the coast to facilitate the use of the company's hybrid flow-through system (HFS), which uses a combination of about 65% reuse and 35% new supply in the form of filtered fresh seawater.
And speaking at the presentation of the company's market update for the second quarter of 2022, Berg revealed that Salmon Evolution had made rapid progress, with options for sites secured on the west coast.
Due diligence
Fish growing well
The first of salmon stocked at Salmon Evolution's facility on Indre Harøy (Harøy Island) in Norway are continuing to perform better than planned and are on track to be harvested in the final quarter of the year.
The smolts were stocked at an average weight of 300 g at the end of March and now have now reached 2.3 kg.
Salmon Evolution is aiming for an average weight of just under 5 kg (head on gutted) at harvest.
"We have been doing a very thorough job to identify potential sites on the east coast and also on the west coast," said the executive. "We have secured some options for sites and now we're working to do due diligence on the sites with regards to water quality, regulatory risks, and we're also already in close dialogue with stakeholders in the government, in the local government, in the state government, and also other stakeholders in the area.
"We see a very strong opportunity for this project. Our technology is really well suited for this market. We have access to very high-quality water with really relevant temperatures on these coasts and we expect strong development in the coming year.
"Even though the timeline is long – this is a new thing in the US so the regulatory structure is different than in Norway, so [it will be] some years until we are in production mode – we will see development going forward."
US or Canada
One area that might appeal to Salmon Evolution is British Columbia in Canada, where the federal government has committed to transition from open-net pen salmon farming. While that doesn't necessarily mean moving to land-based farms, it's likely that authorities would be keen to facilitate a project like Salmon Evolution's, which would help maintain salmon production and aquaculture jobs in the province.
Wherever Salmon Evolution chooses to build a facility, it will do so with a local partner, Berg said in answer to a question at today's presentation.
"We see interest from potential North American partners to join the project, so we estimate to have an ownership from the upper fifties to the seventies (percentage of equity), maybe, and [we're] looking at partners both from a downstream approach but also from an industrial and also financial approach," he said.
"We are very confident in the attractiveness of the project, but also that our partner actually provides a lot of value added, both in the scale and human capital, releasing some the equity demand from our side but also providing strength in regulatory processes and also providing local knowledge."