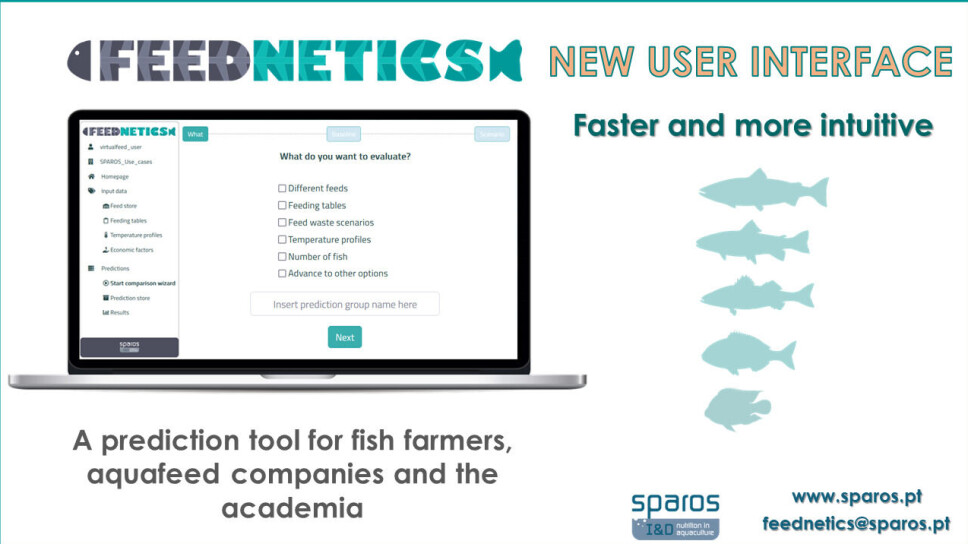 Feed maker launches faster, more intuitive user app
Sparos hails 'must-have' tool for farm managers
Portuguese aquafeed manufacturer Sparos has released a new interface for the Feednetics prediction tool, a smart software to support aquafeed formulation and optimise sustainable fish feeding.
The company says the app enables users to create predictions to evaluate aquafeeds in a much faster and more intuitive way.
"We believe that Feednetics is a must-have tool for farm managers to evaluate aquafeeds under their specific farming conditions and for nutrition experts to support the development of new aquafeed formulations, and the evaluation of long-term effects of novel ingredients on fish performance and environment," Sparos said in a press release.
Salmonids, bream, bass and tilapia
"Currently Feednetics is available for Atlantic salmon, rainbow trout, gilthead seabream, European seabass and the Nile tilapia."
The Feednetics web app was developed in partnership with MAS consulting and the new release is a result of efforts in the Feednetics 4.0 project funded by the European Union and Portugal, and the EU-funded AquaIMPACT project.
More information is available here.
Sparos is running a related training course in Portugal on October 12 and 13, at which key personnel from fish farming and aquafeed companies can learn how to evaluate the impact of different feeds and feeding strategies on fish performance, using Feednetics software.