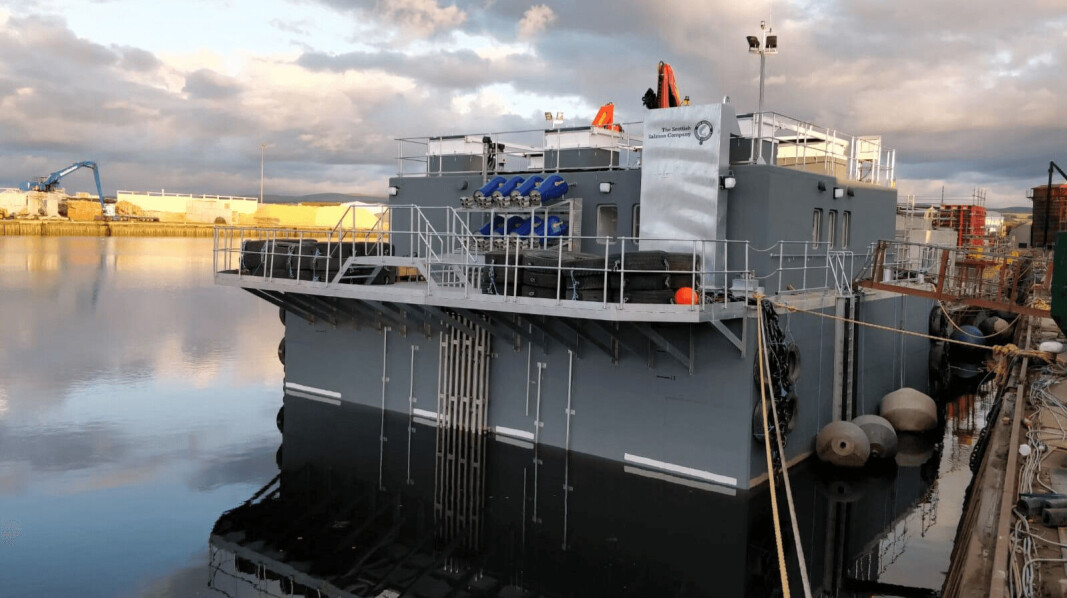 Experts tackle gas discovered in sunken feed barge
Exclusion zone imposed around site near Portree Harbour on Skye
Specialist personnel have been engaged by salmon farmer Bakkafrost to vent gas from a feed barge that sank last year outside Portree harbour off the coast of Skye.
A potentially dangerous gas
Hydrogen sulphide is a colourless, flammable gas with a characteristic odour of rotten eggs.
It is produced during the decay of plant and animal protein, and it occurs in volcanic gases.
Inhalation of high concentrations may lead to collapse, inability to breathe and in some cases death.
Source: Public Health England
The 400-tonne SeaMate barge, which was delivered in 2019, sank at Bakkafrost Scotland's Portree site following Storm Arwen last November, and it has since been discovered that the deterioration of feed in the barge has generated hydrogen sulphide (H2S).
A 500-metre exclusion zone has been placed around the site.
Bakkafrost Scotland, formerly The Scottish Salmon Company, said that since the sinking it had been working with relevant authorities including the Scottish Environment Protection Agency (SEPA), the coastguard and the fire service alongside other experts to plan a recovery operation. The exclusion zone was put in place as a precaution around the site, and a Notice to Mariners was issued on 5 August.
Natural deterioration
"At the submerged barge, due to the natural deterioration of feed, hydrogen sulphide (H2S) has been detected," the company said in a statement.
"As part of the ongoing salvage operation our team are implementing a solution to safely vent any gas and reduce any potential risk. Surface sensors and 24-hour monitoring continue to show no readings outside safe and naturally occurring levels. Specialist personnel engaged by Bakkafrost are at the site to complete these actions.
Surface sensors and 24-hour monitoring continue to show no readings outside safe and naturally occurring levels.
Bakkafrost Scotland statement
"During the recovery operations there will be a temporary increase in marine traffic at the site. All relevant authorities are being kept informed of progress on the recovery operation and we will continue to work together with experts to ensure a safe conclusion to the operation.
"Bakkafrost is fully committed to ensuring public safety in relation to all of its operations, vessels and equipment and we are addressing the removal of any gas as a priority."
'Diving work stopped'
The salvage operation was being carried out by Fife-based Briggs Marine, which was using the work vessel MV Forth Drummer, and was due to be finished by the end of this month.
But anti-salmon farming campaigner Don Staniford told Fish Farming Expert he had received a tip-off that diving work had to be stopped for more than a week after the presence of H2S was discovered.
Inspector Ross McCartney, of Police Scotland, told the BBC that the force was aware of a leak of gas from a sunken vessel off Portree Harbour.
"Multi-agency discussions have taken place and plans are ongoing to safely recover the vessel," said McCartney.