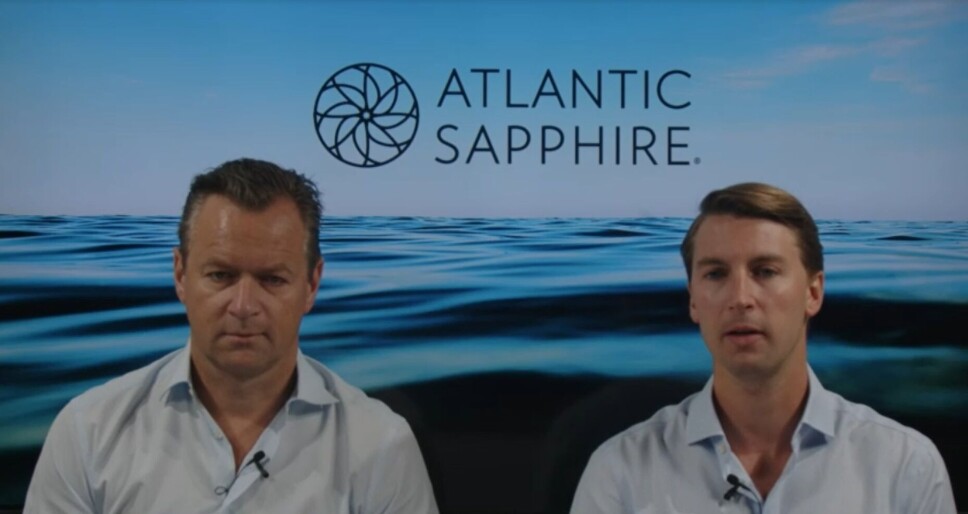 Atlantic Sapphire getting closer to viability, says chief executive
Salmon farmer will reach steady state standing biomass 'early in Q4'
Atlantic Sapphire is finally on the verge of making land-based salmon farming profitable, co-founder and chief executive Johan Andreassen said today as the company revealed reduced operating losses of $12.3 million for the first half of 2022, around a quarter of the $49.7 m lost in the same period the year before.
After enduring a variety of early setbacks, the Florida-based fish farmer has not had an extraordinary mortality event for 17 months, and is approaching "steady state" production, Andreassen said in an operational update for H1.
The first fish stocked when Phase 1 of the company's Bluehouse facility in Miami-Dade County was still under construction performed poorly because of an unstable environment. But later batches are faring better, and the company expects to reach steady state standing biomass in Phase 1 early in the fourth quarter of 2022.
Black numbers
With current estimated growth rates, a fully stocked Phase 1 farm would yield the equivalent of around 8,500 gutted weight tonnes annually, the company said.
"This would get us into black numbers," Atlantic Sapphire ASA managing director Karl Øystein Øyehaug said in a Q&A at the end of the online update.
But the company expects that improvements to feed, lighting, and water temperature stability will improve performance further, adding another 1,000 gwt to the yield.
Atlantic Sapphire also expects running costs will reduce now that a stable operation has been established, as happened in its original recirculating aquaculture system salmon farm in Denmark.
"We have had a tail of a lot of mechanical repairs that are starting to ease off," said Andreassen.
Cost savings
Øyehaug said the company also sees opportunities to save money on the chemicals it uses, and also on oxygen, which will be manufactured on site. Feed supplier Skretting's plans to build a plant on Atlantic Sapphire's site will also save transport costs of $0.3 per kilo.
The cost estimate for Phase 2 of Atlantic Sapphire's facility, which will take capacity up to 25,000 gwt, has been raised to $275-300m, and work may be slowed if prices are too high, said Andreassen, although at the moment the target is stock the first fish in Phase 2 in the first half of 2024.
"We are focusing on cost and quality rather than speed," said the chairman. "We will not start construction if we don't like the numbers."
Denmark RAS still an asset
Atlantic Sapphire received a $25m insurance payout after fire wrecked its plant in Denmark in September last year, killing all the fish in the facility. But the company is also looking to get income from selling the property and the farming licences that go with it.
Although grow out systems were damaged in the blaze, the farm still has a smolt system and water intake infrastructure, said Øyehaug.
"It also has a long list of permits and a good lease that make it an attractive asset for the right buyer," he added.
"It is almost impossible to get permits for aquaculture in Denmark, so for the right operator I am sure this will be interesting," said Andreassen.